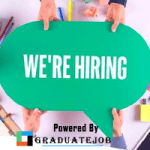 Website Greener Places
Greener Places Services (GPS) is a financial services company set up to provide loan credit facilities to Small and Medium Enterprises (SMEs) and individuals. It is licensed and regulated by the Lagos State Ministry of Home Affairs as a money lending organization located in Lagos.
Revenue Accountant at Greener Places, Qualified Candidates should see job details and Apply. Click for more Jobs
We are recruiting to fill the position below:
Job Title: Revenue Accountant
Location: Yaba, Lagos
Employment Type: Full-time
Revenue Accountant at Greener Places
Job Summary
The Revenue Accountant plays a crucial role in managing financial processes, specifically in the accounting, reconciliation, and reporting of sales revenue within the company.
This role provides essential assistance to Executive Management by ensuring the accuracy of financial data and assisting in generating key financial reports
Job Description
Accurately record revenue transactions.
Perform periodic reconciliation of sales revenue, including daily, weekly, and monthly reconciliations with bank collection accounts.
Assist in preparing regular revenue reports, highlighting trends, patterns, and variances, and providing explanations.
Support the accounting for various income streams and assist in reconciling revenue channels for accuracy.
Participate in reconciling revenue accounts and performing analytical reviews to ensure financial data accuracy.
Assist in the preparation of bank reconciliation reports with a focus on capturing revenue.
Contribute to the enhancement of processes and procedures to facilitate accurate and timely accounting reporting and analysis.
Maintain records of the company's revenue, providing information to Management and the company's accountant for the preparation of management and statutory reports.
Assist in receiving, recording, and reconciling revenue payments.
Support in coordinating collections for overdue or delinquent accounts.
Assist in monitoring daily cash flow through reconciliation processes and reporting to Management.
Help ensure all payments are correctly identified and routed to the appropriate company channels.
Assist in preparing account reconciliations and resolving reconciling items promptly.
Contribute to monitoring repayments of loans, ensuring compliance with customer agreements.
Assist in process improvement initiatives related to revenue accounting.
Participate in preparing periodic product profitability reports.
Assist in sourcing software solutions to maintain accurate sales and revenue data.
Undertake other responsibilities as required by Management.
Other responsibilities that may be required by Management from time to time.
Requirements
The successful candidate must:
Bachelor's Degree in Accounting.
Professional membership and a Master's degree in accounting or a related field would be advantageous.
1 – 4 years relevant work experience.
Experience in Accounts payable, receivables, and bank reconciliation.
Strong analytical skills.
Interpersonal skills. Job Knowledge
Familiarity with current reporting standards.
Ability to interpret financial statements.
Familiarity with accounting software.
Skills / Competencies:
Analytical skills.
Basic technological proficiency.
Basic knowledge of Excel.
Attention to detail.
Application Closing Date
Not Specified.
How to Apply
Interested and qualified candidates should send their CV to: careers@conceptgroup-ng.com using the Job Title as the subject of the email.