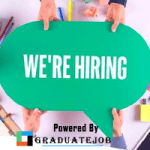 Website Sunhive Limited
Sunhive Limited is a solar energy development and engineering company that focuses on providing solar solutions for productive ends. Our main focus is on the development and engineering of commercial solar photovoltaic power generation solutions.
Admin and Store Manager at Sunhive Limited, Qualified candidates should Apply. Click for more  Jobs 
We are recruiting to fill the position below:
Job Title: Admin and Store Manager
Location: Challawa, Kano
Employment Type: Part-time
Job Description
The company seeks qualified candidates for the role of an admin and inventory manager to ensure smooth administrative operations and store management contributing to the overall success of the organization.
Essential Job Functions
Inventory Management.
Asset management.
Facility management.
Asset repair and maintenance.
Asset register update and labelling.
Manage documents with a filing system.
Responsible for the office consumables.
Monitor and manage office budget.
Monitoring inventory levels and ordering new items.
Negotiate pricing and terms to optimize inventory costs.
Manage daily office operations and maintain procedures.
Communicate effectively with drivers during deliveries.
Maintain and update store records and generate reports.
Maintain an organized and visually appealing store layout.
Manage and communicate administrative and store policies.
Requirements
Administrative experience.
Inventory management experience.
Good oral and written English language skills.
Good learning skills and a track record of self-development.
Ability to work without supervision.
A proactive approach to identifying and solving issues.
Proficient in the use of Google Suite.
Excellent documentation skills.
Application Closing Date
30th November, 2023.
Method of Application
Interested and qualified candidates should:
Click here to complete the application test
And
Send their Applications to: hr@sunhive.com using the Job Title as the subject of the mail.
Note
Kindly use the link above to take a 30-minute test to demonstrate the skills required for this role.
Only candidates who have taken the test will be considered, ensure you use the same email address in both steps.
Please submit only one application, multiple applications will not be considered.
Shortlisted candidates will be contacted.