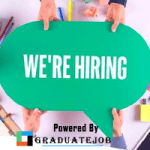 Website Structured Energy Systems Limited
Front Desk / Admin Officer at Structured Energy Systems Limited, Qualified Candidates should Apply. Click for more Jobs
Structured Energy Systems Limited (SES) is an innovative fintech, engineering, e-commerce and content distribution company. Our approach to solving clients' problems is avant-garde and futuristic. We are pushing the boundaries, leading at the forefront of one of our markets, and aim to replicate the leadership in the other markets we operate in.
We are recruiting to fill the position of:
Job Title: Front Desk / Admin Officer
Location: Lagos
Front Desk / Admin Officer at Structured Energy Systems Limited
Duties
Greet and direct all visitors, including vendors, client's job candidates and customers.
Manage and inspect the office building.
Receive and screen all incoming calls.
Maintenance of project files, documents, correspondence, and communications.
Maintenance of staff attendance and punctuality.
Documentation control. Assist other departments with any tasks assigned to you.
Make provision for and take stock count of office supplies and replacement supplies.
Handle special administrative projects, as well as overflow work from departments such as word processing, data entry and internet research tasks. Ensure completion of paperwork, sign-in and security procedures.
Adhere to procedures relating to the proper use and care of equipment and materials for which the role has responsibility.
Adhere to stated policies and procedures relating to health and safety and equality management.
Handle repairs and maintenance of office facilities and equipment.
Observe, rectify, and keep records of office repairs and maintenance. Obtain quotes, negotiate pricing with artisans for repairs, supplies and all maintenance jobs.
Take notes, prepare, and report minutes of meetings to management and staff.
Drafting of internal memos when required.
Receive letters, packages, etc. and distribute them to the appropriate designation.
Prepare monthly admin budget to Finance/accounts team and follow up with payments.
Manage and disburse petty cash upon request.
Manage records of all utility bills, vendor information and payment information.
Monitoring and maintaining of all company vehicles, car insurance policies, road taxes, licenses, and other vehicle documents.
Notify finance of all bills due for payments.
Supervise office assistants, security personnel and drivers and ensure they carry out their duties.
Perform other tasks assigned by the management.
Will sometimes manage Social Media accounts for the Group.
Application Closing Date
14th March, 2022.
How to Apply
Interested and qualified candidates should send their CV to: jobs@structuredresource.com using the Job Title as the subject of the mail.