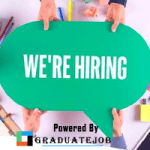 Website Estrada International Staffing Solutions
Estrada International Staffing Solutions is a strategic boutique specialist recruitment consulting firm, serving clients with expertise recruitment services across all sectors ranging from Banking, Insurance, Oil and Gas, Telecommunications, FMCGs and Construction, with the aim of satisfying their recruitment needs. We pride ourselves in the finesse we adopt in our recruitment service delivery. We match our clients' expectations to pool unique talents and enable them effect positive change management which delivers organizational objectives. We also drive positive career growths for our talents.
Client Liaison Trainee at Estrada International Staffing Solutions, Qualified candidates should Apply. Click for more Jobs
We are recruiting to fill the position below:
Job Title: Client Liaison Trainee
Location: Lagos
Employment Type: Full-time
Sector: Healthcare
Functionally Reports to: Human Resource Manager.
Client Liaison Trainee at Estrada International Staffing Solutions
Job Description
Are you a dynamic and customer-focused professional looking for an opportunity to be part of a leading medical facility? Join our client team in the capacity of a Client Liaison Trainee and play a vital role in ensuring top-notch client experiences and effective communication between our client facility and its valued clients. You will be required to undergo a training for a period of 1 month.
The ideal candidate will have excellent communication and customer service skills, as well Job objectives: as the ability to build relationships and resolve issues.
He or she will be responsible for managing client expectations, providing status updates, and ensuring that all client needs are met in a timely and efficient manner.
Our client is a thriving fertility clinic dedicated to helping individuals and couples achieve their dream of parenthood. They are committed to providing the highest standard of care and cutting-edge treatments in the field of reproductive medicine.
Principal Duties / Responsibilities
Operational Responsibilities
Enquiry Taking:
Handle client inquiries with professionalism, providing accurate information and guidance.
Ensure that all client inquiries are addressed promptly and comprehensively.
Enquiry Follow-Up (FLU):
Follow up with clients who have made inquiries to gather feedback and assess their satisfaction.
Use FLU data to improve the quality of services and enhance the client experience.
FLU on Way Forward:
Engage with clients to discuss the next steps in their medical journey, providing guidance and support.
Ensure that clients are well-informed about their options and the path forward.
IVF Call Centre FLU:
Manage inquiries and communication related to the In Vitro Fertilization (IVF) call center.
Assist clients seeking IVF services and provide them with relevant information.
Front Desk Duties:
Handle front desk responsibilities, including welcoming clients, providing assistance, and maintaining a professional and organized reception area.
Strategic Responsibilities:
MD Facebook Live Program:
Coordinate all activities related to the Medical Director's monthly Facebook live program.
Ensure that the program runs smoothly and is engaging for the audience.
Creative Approvals:
Coordinate and obtain approvals for creatives that are forwarded to advertising agencies and internal staff.
Ensure that all creatives align with the facility's brand and messaging.
Doctor and Hospital Relationships:
Maintain a cordial and effective relationship with doctors and their affiliated hospitals.
Ensure that doctors receive appropriate and timely compensation for their services.
Learning and Growth:
Invest in personal and team learning and growth.
Prioritize the enhancement of employee competencies, promote the use of technology, and motivate employees to uphold integrity and professionalism.
Job Requirements
To be successful in the role, the candidates should meet the following requirements: Education:
Possess a minimum of HND (minimum of Upper Credit) or BSc. (minimum of 2nd Class Lower) in any Social Science or Supply Chain field
Experience:
Minimum of 3 years' relevant work experience
Technical Competencies:Proficient in Healthcare processes.
Excellent knowledge in marketing.
IT Systems Skills.
Good understanding and relationship with all government agencies.
Managerial Competencies:
Pro-activeness and alertness
Teamwork
Creativity
Integrity
Problem Analysis
Process Improvement
Behavioural Competencies:
● High Energy Level
Good verbal and written communication
Good leadership and motivational skill
Honesty
Customer Orientation
Attention to details
Strong organizational skills, confident, friendly and approachable
Location:
Pan Nigeria (Role is Domiciled in Lagos & Asaba) you may be required to work outside of these locations when necessary.
Benefits
Living expenses would be covered, incentives, statutory benefits in addition to total remuneration (any other benefits would be discussed and agreed upon).
Application Closing Date
22nd November, 2023.
Method of Application
Interested and qualified candidates should send their CV to: recruitment@estradaintl.com using the Job Title as the subject of the mail.