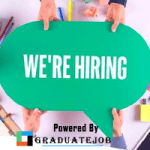 Communications Specialist at X25 Limited, Qualified candidates should Apply. Click for more  Jobs 
X25 Limited, an integrated communications company based in Abuja, is recruiting suitable candidates to fill the position below:
Job Title: Communications Specialist
Location: Abuja (FCT)
Employment Type: Full-time
Communications Specialist at X25 Limited
Job Description
We are seeking a talented Communications Specialist who will play a pivotal role in developing and executing effective communication strategies for our organization's clients. This multifaceted role involves various responsibilities to enhance our clients' visibility and engagement.
As a Communications Specialist, you will be at the forefront of crafting and executing communication strategies that drive success for our clients and our organization.
Key Responsibilities
Content Creation: Develop a wide range of content, including press releases, social media posts, newsletters, brochures, and other marketing materials, to effectively convey messages for our clients.
Media Relations: Cultivate and maintain relationships with journalists, media outlets, and influencers to promote our clients and enhance their visibility.
Brand Management: Ensure consistent messaging and branding across all communication channels, including social media, websites, and marketing materials, to reinforce our clients' brand identity.
Digital Marketing: Create and execute digital marketing campaigns encompassing social media, email marketing, and online advertising to promote our organization and boost engagement with our clients' target audience.
Analytics and Reporting: Monitor and analyze communication metrics to assess the effectiveness of communication strategies. Provide valuable insights and recommendations for continuous improvement.
Team Player: Collaborate effectively with colleagues to achieve common goals. Demonstrate a positive, reliable, adaptable, communicative, collaborative, problem-solving, and committed spirit within the team.
Qualifications
Bachelor's Degree in Communications, Marketing, or a related field with at least 4 years experience.
Exceptional communication, writing, and interpersonal skills.
Proficiency in social media management tools.
Preferred experience in news writing and copy editing.
Application Closing Date
9th October, 2023.
How to Apply
Interested and qualified candidates should send their Applications to: recruitabuja@gmail.com using the Job Title as the subject of the email.
Note
This is not a hybrid or remote position.
This position is not available to freelance applicants.
If you possess the required qualifications and a passion for impactful communication, we encourage you to apply. Your role will be instrumental in elevating our clients' presence and ensuring the consistent delivery of compelling messages.