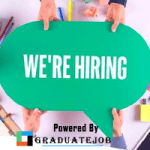 Website Greener Places Services
Greener Places Services (GPS) is a financial services company set up to provide loan credit facilities to Small and Medium Enterprises (SMEs) and individuals. It is licensed and regulated by the Lagos State Ministry of Home Affairs as a money lending organization located in Lagos.
Company Accountant at Greener Places Services (GPS), Qualified candidates should Apply. Click for more Jobs
We are recruiting to fill the position below:
Job Title: Company Accountant
Location: Yaba, Lagos
Employment Type: Full-time
Company Accountant at Greener Places Services (GPS)
Job Summary
The Accountant assists in managing the financial activities of the company .
Duties & Responsibilities
Assist in preparing financial statements and monthly reports for the Management and Board.
Provide explanations for variances in monthly business performance reports.
Support in daily/monthly postings to the general ledger.
Collaborate with various departments for financial reporting and analysis.
Assist in monthly bank reconciliation.
Aid in the timely preparation and submission of financial reports
Assist in reviewing journals for analysis and reporting.
Provide support for internal and external audits
Collaborate with other finance units such as Treasury, risk management, admin, and legal.
Assist in annual strategic planning and budgeting.
Prepare reports for committee meetings.
Provide support for payables, tax, and other accounting services.
Implement and monitor internal controls.
Respond to auditor's comments.
Ensure general ledger accounts reconciliation.
Ensure compliance with financial policies and procedures.
Handle petty cash payments.
Assist in maintaining financial systems and databases.
Collaborate with external auditors, regulators, and tax auditors.
Engage in team activities as assigned.
Perform other duties as assigned by Management.
Requirements
The successful candidate must:
Bachelor's Degree in Accounting.
1 – 3 years relevant work experience.
Professional membership and a Master's degree in accounting or a related field would be advantageous.
Experience in financial management, reporting, and analysis.
Familiarity with Accounts payable, receivables, and bank reconciliation.
Interpersonal skills.
Job Knowledge:
Familiarity with current reporting standards.
Ability to interpret financial statements.
Familiarity with accounting software.
Skills / Competencies
Analytical skills.
Basic technological proficiency
Basic knowledge of Excel
Attention to detail.
Application Closing Date
Not Specified.
How to Apply
Interested and qualified candidates should send their CV to: careers@conceptgroup-ng.com using the Job Title as the subject of the email.