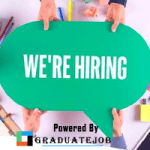 Website Mechanic On The Go
At Mechanic On The Go, we engage in vehicle repair and maintenance with a priority on ensuring that we deliver speedy and effective solutions to our customers. We guarantee only the best mechanics and employees at your disposal and each person is thorough to the letter. We have been an established company since August 2022 and have worked successfully on over 80 vehicle related issues. As a brand that is fully committed to giving our customers ease, we offer services via Home Service and as our name implies,'On The Go'at any place withinLagosandOgunstate, with a view to expand to other locations soon.
Instagram Handler and Content Creator at Mechanic On The Go, Qualified candidates should see the job details. Click for more Jobs
We are recruiting to fill the position below:
Job Title: Instagram Handler and Content Creator
Location: Ikeja, Lagos
Employment Type: Contract
Instagram Handler and Content Creator at Mechanic On The Go
Position Overview
Mechanic On The Go, a dynamic mechanic startup in Lagos, Nigeria, is seeking a creative and proactive Instagram Handler and Content Creator.
This role is pivotal for optimizing our Instagram presence, attracting organic traffic, and engaging our target audience.
The successful candidate will be responsible for creating engaging and educational Instagram carousel posts, stories, and video content, as well as actively participating in social media conversations to promote our brand.
Key Responsibilities
Instagram Optimization:
Manage and optimize the Mechanic On The Go Instagram page to increase visibility, reach, and engagement.
Collaborate with the marketing team to set and achieve growth and engagement goals.
Create a content calendar for maximum outreach
Content Creation:
Develop creative and informative Instagram carousel posts on car education, maintenance tips, and industry insights to captivate and educate the audience.
Create visually appealing and informative Instagram stories that align with the brand's messaging.
Video Content:
Transform video and image content provided by the team into engaging and shareable Instagram video content.
Plan and schedule video posts for maximum impact.
Community Engagement:
Actively engage with followers and relevant automotive communities on Instagram, encouraging discussions and conversations that draw attention to our page.
Respond to comments, messages, and mentions promptly and professionally.
Hashtag Strategy:
Develop and execute a strategic hashtag strategy to increase the discoverability of our content.
Monitor and adjust the strategy based on performance data.
Local Engagement:
Leverage your knowledge of Lagos and actively engage with local users, encouraging them to explore our services.
Performance Metrics:
Regularly track and report on key performance metrics such as follower growth, engagement rates, and post reach.
Qualifications
Candidates should possess relevant qualifications with 2 – 10 years experience.
Proven experience in managing and growing Instagram accounts, ideally in the automotive or related field.
Creative and capable of generating engaging content.
Familiarity with Instagram's algorithm and best practices.
Strong communication skills and ability to engage with a diverse online audience.
Basic video editing skills is required (Capcut).
Residing in Lagos, Nigeria is an advantage.
Advantages:
The Ability to Create and Edit Video Content based on automobile education will lead to higher pay.
Opportunity to make a significant impact on the company's online presence.
Creative and collaborative work environment.
The potential for career growth within the company.
Salary
N35,000 – N50,000 Monthly.
Application Closing Date
30th November, 2023.
How to Apply
Interested and qualified candidates should send their CV outlining their experience and qualifications, along with examples of their Instagram work to: mechaniconthego22@gmail.com using the Job Title as the subject of the email.
Note: Interested candidates are encouraged to share their Portfolio of relevant Instagram content they have created and managed.