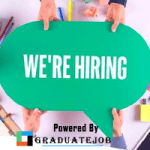 Cook at Coraval Business Services, Qualified Candidates should Apply. Click for more Jobs
Coraval Business Services Limited provides short-let accommodation services, homes and restaurant services and auto services.
We are recruiting to fill the position below:
Job Title: Cook
Location: Ikeja Lagos,
Employment Type: Full-time
Cook at Coraval Business Services
Job Description
Cora Shortlet and Lounge is an establishment that provides shortlet and restaurant services. We are looking to recruit cooks to prepare meals and food items according to recipes created by the establishment.
You will perform all duties necessary to ensure that a meal is properly prepared and presented within a specified timeframe.
Responsibilities
Preparing and assembling ingredients for menu items.
Work with the Chef and Sous chef to preparehigh-quality meals and food items according to recipes.
Storing excess food at the correct temperature in order to avoid spoilage.
Ensuring that food portions and food presentation meet company standards.
Monitoring supplies and re-ordering stock as needed.
Ensuring that cooking utensils are clean before each use.
Cleaning and sterilizing food preparation areas.
Assisting other cooks to ensure that food orders are completed in a timely manner.
Efficiently resolving problems with customers' orders.
Ensuring that food health and safety regulations are followed.
Requirements
Sound knowledge of cooking methods and techniques.
Proven experience working as a Cook.
The ability to follow recipes.
The ability to work in a team.
The ability to stand for extended periods of time.
Effective communication skills.
Application Closing Date
4th December, 2023.
Method of Application
Interested and qualified candidates should send their Resume to: coravalbusinessservices@gmail.com using the Job Title as the subject of the email.
To apply for this job please visit gmail.com .