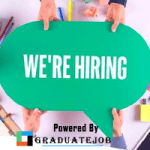 Website Trusted Edge Consult Limited
Customer Service Representative at Trusted Edge Consult Limited, Qualified candidates should apply. Click for more Customer Service Jobs
Trusted Edge Consult is an educational and management consultancy firm registered in Nigeria to provide cutting edge career counselling, academic consultancy, training, value-added business advisory and business turnaround management services.
We are recruiting to fill the position below:
Job Title: Customer Service Representative
Location: Gbagada Phase 2, Lagos
Employment Type: Full-time
Customer Service Representative at Trusted Edge Consult Limited
Job Description
Maintaining a positive, empathetic, and professional attitude toward customers at all times.
Responding promptly to customer inquiries.
Communicating with customers through various channels.
Acknowledging and resolving customer complaints.
Knowing our products inside and out so that you can answer questions.
Processing orders, forms, applications, and requests.
Keeping records of customer interactions, transactions, comments, and complaints.
Communicating and coordinating with colleagues as necessary.
Providing feedback on the efficiency of the customer service process.
Managing a team of junior customer service representatives.
Ensure customer satisfaction and provide professional customer support.
Qualifications
High School Diploma, General Education Degree or equivalent.
0 – 2 years of work experience.
Ability to stay calm when customers are stressed or upset.
Comfortable using computers.
Experience working with customer support.
Application Closing Date
18th March, 2022.
Method of Application
Interested and qualified candidates should send their CV to: trusted@trustededge.ng using the Job Title as the subject of the email.