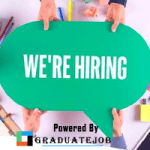 Website ModSquad
ModSquad is a global provider of managed digital engagement services. Our 10,000+ Mods chat with customers, moderate web content, manage communities, and buzz in social media for many of the world's coolest brands, including Spotify, VSCO, Vimeo and Tourism Ireland, to name a few. We bring companies closer to their customers than ever before. From global enterprises to international agencies to hip new startups, our clients have reaped the benefits of putting ModSquad's expertise to work. With experienced Mods available in 50+ languages in 70+ countries, we're your squad for the digital world.
Customer Support Officer – Tickets, Chats, Phones – English at ModSquad, Qualified Candidates should Apply. Click for more Jobs
We are recruiting to fill the position below:
Job Title: Customer Support – Tickets, Chats, Phones – English
Location: Lagos
Employment Type: Contractor / Hybrid
Customer Support Officer – Tickets, Chats, Phones – English at ModSquad
Description
ModSquad has partnered with multiple top tier brands/clients across the globe and we need the best of the best in Customer Support!
Do you have a Ticket, Chat and/or Phone background?
Do you enjoy work-from-home and flexible schedules?
ModSquad is seeking Mod Contractors to join our network!
If you want the chance to work gigs on the coolest of client projects… then ModSquad is the place for you!! Our clients are strictly Top Tier whose product offerings and services are hip, contemporary and very current. You will instantly know who they are and very likely use them yourselves. Their customers expect the best service and support and that's where we come in.
Our Mods bring super skills, a positive attitude and great vibe to project work everyday. Mods assist and guide customers to the right answers, solve concerns and are the GPS for customers to understand and optimize the best use of a client's product or services. Project gigs available now and more are on the horizon.
What We Are Looking For
Has skills / experience
Is interested in creating an excellent experience for the customer
Has a fun approach to customer support
Loves being a part of a team, and is a multitasking ninja!
Cares about the details, very reliable, and friendly!
Is tech savvy
Has strong English language skills.
What's in it for You
The potential to work with some of the coolest clients around the world like Spotify, VSCO, Vimeo and Tourism Ireland!
Flexible self-scheduling
Access to 'Hot Gigs' postings exclusive to the Mod Network
Work from home
Competitive hourly rate – Discussed during your first interview
Paid orientation.
Application Closing Date
Not Specified.