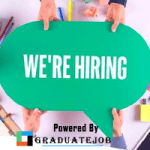 Website Vitalvida
Vitalvida provides you with an excellent eCommerce experience as our clients satisfaction matters a lot to us. We have an amazing combination of Products on our various websites that are tailored to meet your needs.
Data Entry Associate at Vitalvida, Qualified candidates should Apply. Click for more  Jobs 
We are recruiting to fill the position below:
Job Title: Data Entry Associate (With a Keen Eye For Detail)
Location: Yaba, Lagos
Employment Type: Full-time
Job Details
We are seeking an individual who can navigate Google Sheets with ease and loves crafting functions and formulas.
Work days: Monday to Saturday, 8 am – 5 pm
Key Responsibilities
Accurate data entry and updates.
Proficiency in Google Sheets or Excel
Collaborate with the team to maintain data integrity.
Detect and resolve data discrepancies.
Enhance data management practices.
Requirements
Age between 18 and 25.
Extensive Google Sheets expertise is a plus
ERP software experience is a plus.
Exceptional attention to detail.
Strong time-management skills.
A dedicated work environment.
Effective communication skills.
What We Offer
Office-based work, Monday to Saturday, 8 am – 5 pm.
Competitive compensation.
Supportive work environment.
Opportunities for professional growth.
Application Closing Date
Not Specified.
Method of Application
Interested and qualified candidates should:
Click here to apply online
Note
This role requires uninterrupted focus during working hours. We are seeking individuals who can commit their time without interruptions from household errands or other responsibilities.
If you're ready to showcase your Google Sheets skills and join a team that values your expertise, fill out the application form using the link above.
To apply for this job please visit forms.gle.