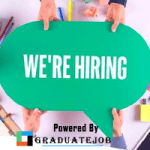 Website Havigo Consulting Limited
Havigo Consulting Limited is a global consulting company with clients, frontiers, and impacts both home and abroad. We are passionate about helping businesses confront and solve every problem that poses a threat to growth and expansion.
Digital Marketing Associate at Havigo Consulting Limited, Qualified candidates should Apply. Click for more Jobs
We are recruiting to fill the position below:
Job Title: Digital Marketing Associate
Location: Osogbo, Osun
Employment Type: Full-time
Digital Marketing Associate at Havigo Consulting Limited
Job Description
We are looking for a fairly experienced Digital Marketing Associate to assist in the planning, execution and optimization of our online marketing efforts.
The promotion of products and services through digital channels is a complex procedure with great potential which is becoming increasingly useful for companies such as ours.
The ideal candidate must have a passion for marketing, technology, and helping businesses grow.
You must be well-versed in the concepts surrounding digital marketing and how the Internet can be used to help businesses grow their revenue.
A good experience with Lead Generation, Sales Funnel, Landing Page Optimization and Email Campaigns and Automation, as well as advertising via Facebook/Twitter (X), Google and Instagram are all desirable in our ideal candidate.
Responsibilities
Assist in the formulation of strategies to build a lasting digital connection with clients.
Design landing pages, opt-in pages, email campaigns, and sales funnels.
Plan and monitor the ongoing company presence on social media (Twitter, Facebook etc).
Launch and optimize online adverts through Google Adwords, Facebook and Instagram Ads, etc. to increase our company's brand awareness.
Be actively involved in SEO efforts (keyword, image optimization, etc).
Prepare online newsletters and promotional emails and organize their distribution through various channels.
Provide creative ideas for content marketing and website updates.
Collaborate with designers to improve user experience
Measure performance of digital marketing efforts using a variety of Web analytics tools (Google Analytics, WebTrends etc.)
Acquire insights from online marketing trends and keep strategies up-to-date
Maintain partnerships with media agencies and vendors
Qualifications
B.Sc / BA in Marketing or relevant field (lower degrees with strong background in digital marketing will be considered
Proven experience as a Digital Marketer
Excellent understanding of digital marketing concepts and best practices
Experience with B2C/B2Bsocial media, Google Adwords and email campaigns and SEO/SEM
Working knowledge of ad-serving tools (e.g., DART, Atlas)
A good knowledge of web analytics tools (e.g., Google Analytics, NetInsight, WebTrends etc.)
Good knowledge of email marketing platforms such as ConvertKit, MailerLite, GetResponse, etc.
Must be able to create web pages with WordPress.
Skills and experience in creative content writing
Analytical mindset and critical thinking
Excellent communication and interpersonal skills
Brilliant attitude and ability to work seamlessly in a team
Must be prepared to learn and grow with the team
Extras:
A close proximity to the job location (Near Osun State Secretariat, Osogbo) is an advantage.
Strong interest in pursuing long-term career development along any or all of the following paths will be a huge advantage: Management Consulting, Business Development, Digital Marketing, and Tech.
Basic skills in WordPress, as well as graphic design using CorelDraw, Adobe Photoshop, InDesign, Adobe Illustrator, etc. will be an advantage.
Application Closing Date
30th December, 2023.
Method of Application
Interested and qualified candidates should send their CV and Cover Letters to: careers@havigoconsulting.com using "Digital Marketing Associate" as the subject of the mail.