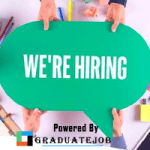 Website Sandbox Software Technologies Limited
Sandbox is a platform that provides infrastructure for shipping, escrow payments and discovery services to merchants and customers in North America, Europe, and Africa. We help merchants with local, national, and international deliveries at the most affordable rates. We also provide a 24-hour delivery service for local deliveries. At Sendbox, our vision is to become the e-commerce operating system for African merchants and logistics. Our mission is to empower African merchants by giving them the opportunity to participate in e-commerce and fulfil every transaction with everyone, anywhere in the world.
Digital Marketing Executive at Sandbox Software Technologies Limited, Qualified candidates should Apply. Click for more Jobs
We are recruiting to fill the position below:
Job Title: Digital Marketing Executive
Location: Lagos
Employment Type: Full-time
Digital Marketing Executive at Sandbox Software Technologies Limited
Job Description
We are seeking individuals with a drive for excellent service delivery.
We are looking to hire an a highly skilled and experienced Digital Marketing Executive. The Digital Marketing Executive is the key person in charge of executing the company's digital marketing campaigns. He/she is involved throughout the campaign ideation, planning, implementation, measurement, and optimization process. The ideal candidate will have a strong background in digital marketing strategies and techniques, with a focus on driving traffic, increasing conversions, and improving customer engagement. This role requires a deep understanding of the e-commerce industry and the ability to create and implement effective marketing campaigns across various digital platforms.
Responsibilities
Manage and assist in the formulation of strategies to build a lasting digital connection with customers.
Develop and execute digital marketing campaigns to drive online traffic, increase brand awareness, and generate leads and acquire new merchants for e-commerce and the Marketplace.
Launch optimized online adverts through Google Adwords, Facebook etc. to increase company and brand awareness.
Build, plan and implement the overall digital marketing strategy.
Create copies for Sendbox's social media pages.
Email Marketing: Come up with ideal copies for email marketing and Landing pages.
Assist with creation of growth landing pages.
Collaborate with cross-functional teams, including sales, operations, and customer service, to align digital marketing strategies with business goals and objectives.
Provide creative ideas for content marketing.
Measure performance of digital marketing efforts using a variety of Web analytics tools (Google Analytics, WebTrends etc.)
Supervision and motivation of other employees on the team such as Social Media Executive, Graphics Designer and Growth Officer.
Acquire insight in online marketing trends and keep strategies up to date.
Prepare budgets.
Manage and improve online content, considering SEO and Google Analytics
Monitor competition and provide suggestions for improvement.
Skills and Qualifications
A Bachelor's Degree in preferably in Business, Marketing and other related fields.
Minimum of 3 years' work Proven experience in digital marketing or similar roles, preferably in the e-commerce industry.
Experience with B2C social media, Google Adwords and email campaigns and SEO/SEM
Proficiency in using web analytical tools, (such as Google Analytics, NetInsight, WebTrends etc.) to track and analyze website performance and customer behavior.
Working knowledge of ad serving tools (e.g., DART, Atlas)
Experience in leading digital marketing campaigns and projects
Skills and experience in creative content writing
Excellent written and verbal communication skills, with the ability to create compelling content for various digital platforms.
Strong project management and organizational skills, with the ability to prioritize tasks and meet deadlines.
Creative thinking and problem-solving abilities to develop innovative marketing strategies.
Ability to work independently and as part of a team, with a collaborative and proactive mindset.
Knowledge of e-commerce platforms and logistics processes is a plus.
Working knowledge of ad serving tools (e.g., DART, Atlas)
Analytical mindset and critical thinking
Application Closing Date
30th November, 2023.