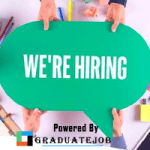 Digital Marketing Intern at Trontier Limited, Suitable candidates should Apply. Click for more Jobs at Trontier 
Trontier Limited is an innovative Frontier Technologies company that harnesses the power of AI and IoT technologies to provide digitalization services that meet your data-driven and automation needs. We help you uncover patterns in raw data, gain insights and use them to make informed decisions. With novel AI technologies, we design solutions that will filter through the massive pool of data to automatically identify and extract meaningful information for faster and smarter decision-making. Our solutions use AI to improve KPIs, gain new market intelligence and predict future outcomes.
We provide the right tools to analyse massive unstructured Big Data generated from IoT sensors and other sources including text, images, videos, and time series. Thus, we make sure that our customer's business does not leave huge amount of valuable data and insights behind. We deliver end-to-end digital transformation for a broad range of sectors including health, agriculture, logistics, manufacturing and businesses that have medium to large-scale data-driven needs.
We are recruiting to fill the position below:
Job Title: Digital Marketing Intern
Location: Lagos
Employment Type: Full-time
Digital Marketing Intern at Trontier Limited
About the Role
We are looking for a digital marketing head intern to assist to build, plan and implement the overall digital marketing strategy.
You will be responsible for managing the strategy and to train the rest of the team.
You are expected to stay up to date with the latest technology and best practices.
The ideal candidate will be someone who has some years of work experience and has the passion to equip upcoming team members with the right skillset to help meet organizational goals.
You will manage and oversee different digital marketing channels.
Responsibilities
Measure ROI and KPIs.
Prepare and manage digital marketing budget.
Oversee all the company's social media accounts.
Measure and manage online content
Track SEO and google analytics data and make more complex analysis.
Build inbound marketing plan
Anticipate sales performance trends
Research competition, investigate benchmarks and provide suggestions for improvements.
Ideal Candidate
Candidates should possess a Bachelor's Degree with 2 – 7 years work experience.
Have some years of work or business experience in digital marketing.
Strategic thinker.
Has strong communication skills.
Is extremely organized and detail-oriented.
Has training experience and is able to mentor others.
Has skill in data analysis.
Enjoys giving and receiving constructive feedback.
Has skill in paid social advertising, email marketing and SEO.
Has skill in social media marketing.
What's In It For You?
The compensation for these roles would come in the form of periodic corporate rewards based on performance.
Opportunity to build and grow your professional network by engaging with other professionals in the field.
Likelihood for retainer benefits.
Flexible hours.
An exciting environment to express your passion and talents, and develop talents for the future of the work era.
An opportunity to contribute to a leading company, and grow personally and professionally.
Application Closing Date
31st August, 2022.
To apply for this job please visit forms.gle.