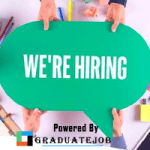 Digital Media & Community Management Intern at Betaworka, Qualified candidates should Apply. Click for more jobs at Betaworka
Betaworka is an unconventional & creative human capital solutions firm where we make big things happen through a growth mindset, daring and unconventional creativity & disruptive innovation.
We are recruiting to fill the position below:
Job Title: Digital Media & Community Management Intern
Location: Lagos
Employment Type: Contract
Digital Media & Community Management Intern at Betaworka
About the Role
Under the overall guidance of the Lead Consultant, the Digital Media & Community Management Intern will support in the development and implementation of strategies to achieve the business objectives with respect to digital media communications, digital publicity, and digital marketing.
He/she will focus primarily on leads generation support for training programs, upcoming events, community management, improving SEO, writing contents, and launching fruitful campaigns.
Key Areas of Focus
Support in the planning and execution of web, SEO, social and display advertisements.
Support the PRO in the marketing activities of the brand.
Work with the graphic design team & PRO in the upgrade and creation of optimized websites and campaigns
Participate in brainstorming sessions for eye-catching marketing campaigns and come up with new growth strategies
Support in the measurement &analysis of marketing campaigns
Recommend & come up with budget for paid social and digital campaigns (Facebook, Instagram, Google, etc.)
Track and report impact of acquisition campaigns
Research new and innovative ways to reach new audiences.
Requirements
Excellent written and spoken English (non-negotiable)
Beginner knowledge of community management, SEO & Digital Marketing
Digital savvy
Good people skills
Common Sense
Street smart
Intuitive
Bold
Detail oriented
Graphics design knowledge (or willingness to learn) is an advantage.
Creative self-starter who is comfortable with taking initiative and working in collaboration
Ability to work unsupervised is a must
Relatively active digital footprints and network influence (social media)
Benefits
NGN30,000 monthly stipend
NGN10,000 Monthly Data
Application Closing Date
Not Specified.