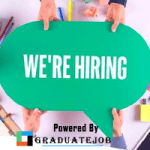 Website Max Drive
Max Drive - We are a team of passionate people and a leading technology-enabled company driven by a vision to solve the mobility challenges in Africa. We want to get people and goods to their destinations hitch-free. It is personal for us because we understand the frustration of epileptic transportation. We are making mobility safe, affordable, accessible, and sustainable through the deployment of high-performance technologies and operators.
We are recruiting to fill the position below:
Job Title: Digital Strategist
Location: Lekki Phase 1, Lagos
Department: Marketing
Digital Strategist at Max Drive
Description
We seek to employ a Digital Strategist to join our team. As Digital Strategist, you will play a pivotal role in developing and implementing innovative digital strategies to drive business growth.
This is a unique opportunity to join a team of passionate individuals working towards a meaningful mission of making mobility safe, affordable, accessible and sustainable for all.
With our proprietary technology and transformative mission, you will be a part of building the largest vehicle subscription and financial services platform in Africa, serving millions across the $250B mobility industry.
Responsibilities
Develop and lead the implementation of a comprehensive digital strategy to achieve business goals and drive growth.
Analyze data and trends to inform digital strategy and optimize user experience.
Create and manage digital marketing and advertising campaigns to increase brand awareness and promote products and services.
Collaborate with cross-functional teams to develop innovative product offerings and enhance digital customer experience.
Manage and optimize social media presence and monitor user engagement and sentiment.
Stay current with emerging digital trends, platforms and technologies to continually evolve Max Drive's digital strategy.
Ensure digital initiatives align with company values and support our mission of making mobility safe, affordable, accessible and sustainable for all.
Requirements
Bachelor's Degree in Marketing, Communications, Business Administration, or a related field.
3-5 years of experience in digital strategy, marketing, or a related field.
Strong analytical and problem-solving skills with a data-driven approach.
Experience with digital marketing and advertising tools and platforms, such as Google Ads, Facebook Ads, and SEO.
Excellent communication and collaboration skills to work effectively with cross-functional teams.
Ability to think creatively and drive innovative digital solutions.
Passionate about making a real lasting impact on the lives of millions of people.
Application Closing Date
Not Specified.