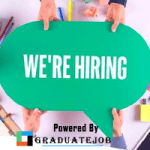 Website Estrada International Staffing Solutions
Estrada International Staffing Solutions is a strategic boutique specialist recruitment consulting firm, serving clients with expertise recruitment services across all sectors ranging from Banking, Insurance, Oil and Gas, Telecommunications, FMCGs and Construction, with the aim of satisfying their recruitment needs. We pride ourselves in the finesse we adopt in our recruitment service delivery. We match our clients' expectations to pool unique talents and enable them effect positive change management which delivers organizational objectives. We also drive positive career growths for our talents.
Embryologist Trainee at Estrada International Staffing Solutions, Qualified candidates should Apply. Click for more Jobs
We are recruiting to fill the position below:
Job Title: Embryologist Trainee
Locations: Delta and Lagos
Employment Type: Full-time
Embryologist Trainee at Estrada International Staffing Solutions
Operational Responsibilities
Lab Maintenance:
Perform daily cleaning and maintenance of the embryology lab, ensuring a sterile and organized environment.
Clean and maintain the andrology and serology workbench to meet the highest standards of hygiene.
Dish Preparation:
Prepare culture dishes 24 hours before treatments to facilitate successful embryo development.
Egg Pickup Preparation:
Prepare the lab for egg pickup procedures, ensuring all equipment and supplies are in order.
Monitoring and Documentation:
Regularly monitor temperature, CO2 levels, and volatile organic compound (VOC) levels in the lab.
Conduct routine serology tests and seminal fluid analysis as required.
Document serology and seminal fluid analysis results accurately.
Reporting and Communication:
Present weekly and monthly laboratory activities and findings to the relevant team members.
Prepare and dispatch treatment summaries after embryo transfers.
Maintain open communication and timely reporting.
Inventory Management:
Take weekly and monthly stock of all consumables, ensuring an adequate supply for ongoing treatments.
Send stock reports to the appropriate departments.
Result Preparation and Dispatch:
Prepare daily results and ensure their prompt dispatch to the front desk for patient updates.
Assisted Reproductive Procedures:
Perform assisted reproductive procedures, including Intracytoplasmic Sperm Injection (ICSI), Intracytoplasmic Morphologically Selected Sperm Injection (IMSI), Physiologically-Induced Intracytoplasmic Sperm Injection (PICSI), and Laser-Assisted Hatching (LAH).
Embryo Management:
Conduct vitrification and thawing of embryos, ensuring their safety and viability.
Perform embryo biopsy and tubing as needed.
Assist in sending samples for genetic screening, if required.
Vitrify and thaw oocytes and embryos as part of the treatment process.
Strategic Responsibilities:
Professional Development:
Stay updated on the latest developments in the field of embryology by attending conferences, workshops, and regularly reviewing scientific journals.
Make suggestions for the adoption of new treatment types, methods, or systems to enhance patient care.
Image Projection:
Contribute to building and projecting a positive image of the clinic within professional and patient communities.
Learning and Growth:
Invest in personal and team learning and growth.
Promote the use of technology and motivate colleagues to be accountable individuals with a strong sense of integrity.
Information Accuracy:
Ensure that information provided to colleagues, patients, and the general public within the area of responsibility is accurate, appropriate, and aligned with ethical standards.
Job Requirements
To be successful in the role, the candidates should meet the following requirements:
Education:
Possess a minimum of BSc. (minimum of 2nd Class Upper) in Biological Science.
Experience:
Minimum of 3 years' relevant work experience.
Technical Competencies:
Proficient in laboratory management.
Sound knowledge of the IVF techniques.
Managerial Competencies:
Pro-activeness and alertness
Teamwork
Creativity
Integrity
Problem Analysis
Process Improvement
Behavioural Competencies:
High Energy Level
Good verbal and written communication
Good leadership and motivational skill
Honesty
Customer Orientation
Attention to details
Strong organizational skills, confident, friendly & approachable
Application Closing Date
11th November, 2023.
Method of Application
Interested and qualified candidates should send their CV to: recruitment@estradaintl.com using the Job Title as the subject of the email.