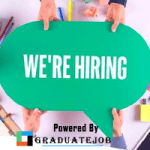 Website Reputable Company
We're creating the best data collection platform to help educators, small businesses, and researchers collect any type of data with online forms and survey solutions. We're a small team obsessed with providing the best experience for our customers while growing and enjoying what we do as a team.
Content & Growth Marketing Associate at a Reputable Company, Interested and qualified candidates should see the job details. Click for more jobs at Dangote Group
We are recruiting to fill the position below:
Job Title: Content & Growth Marketing Associate
Location: Remote
Employment Type: Full-time
Content & Growth Marketing Associate at a Reputable Company
Description 
You'll be responsible for our internal and external communication ( Website Copy, Newsletter Messaging, Product Announcements, Editing, and Content Creation). You'll be able to use gathered data to make future product decisions as to the needs and preferences of our customers,
You'll fit in perfectly for this role if you're a content native. I.e. if you can easily convert an article or a piece of writing into any other type of content for different audiences.
Responsibilities
Create engaging UX and Website Copy for newly added features and landing pages.
Write articles for product releases and occasional marketing opportunities.
Work together with the rest of the content team to produce engaging content.
Provide quality checks and be the gatekeeper for every content uploaded to the website.
Be a bridge between the product, support, and the growth team
Manage customer reviews, testimonials, and case studies.
Suggest growth ideas or experiment with the team's ideas and track their success. This involves co-owning the company's growth process.
Create simple how-to videos for marketing purposes.
Added Advantage:
You'll have an added advantage if you have the following skills or have used any of the following tools before:
Intercom or any other customer communication platform WordPress Mixpanel or Google Analytics Copywriting Simple video/design skills
Application Closing Date
18th September, 2023.