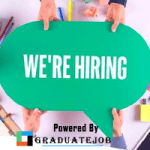 Website An International Online Brokerage Service Firm
Front Desk Officer (Female) at an International Online Brokerage Service Firm, Qualified candidates should Apply. Click for more jobs
We are an international Online brokerage service firm based in Lagos and we are recruiting suitably qualified candidates to fill the position below:
Job Title: Front Desk Officer (Female)
Location: Ikeja, Lagos
Employment Type: Full-time
Front Desk Officer (Female) at an International Online Brokerage Service Firm
Job Description
Our company is looking for an experienced Front Desk Officer to carry out all secretarial duties at our front desk area.
You will perform a range of duties including answering phone calls and handling frontline inquiries.
Your main goal is to provide our clients with excellent customer service and support and also make them feel comfortable within our premises.
As the first contact in our company, the successful candidate will be expected to be presentable and friendly at all times with outstanding people's skills.
You should be able to multi-task, with excellent communication and organizational skills.
Responsibilities
Welcome our guests and provide them with excellent customer service.
Ensure the front desk area is always clean, presentable, and equipped with all the necessary supplies.
Ensure an orderly, welcoming, and professional appearance in the reception area.
Maintain visitors register
Answer all client questions and incoming calls.
Redirect phone calls to the appropriate department and takedown messages.
Receive all letters and packages, and distribute them to their appropriate departments.
Monitor, organize and forward emails.
Track and order office equipment and supplies.
Maintain records and files.
Requirements
Minimum of B.Sc or B.A in any relevant field.
1 -3 years of Administration experience in a multinational business environment
Good understanding of office administration and basic bookkeeping.
Excellent written and verbal communication skills.
Excellent organizational and multi-tasking skills, ability to prioritize, and comfortable working independently
A high degree of computer literacy (E-mail, Internet, etc.) and knowledge of MS Word, MS Excel, MS PowerPoint.
Relevant experience in an office setting, preferably in an administrative or clerical role
Excellent organizational and multitasking skills, ability to prioritize, and comfortable working independently
Proficient use of MS Office Tools.
Attention to details
Ability to effectively use and maintain office equipment.
Application Closing Date
28th March, 2022.
How to Apply
Interested and qualified candidates should send their CV and Cover Letter to: hr.nigeria@gtcup.com using the Job Title as the subject of the mail.
Note: Only shortlisted candidates will be contacted.