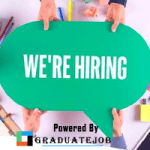 Front Desk Officer at Mapia Tea, Qualified candidates should apply. Click for more Customer Service Jobs
Mapia Tea – We are blenders at heart, meaning we love mixing teas, herbs and natural ingredients in order to make truly effective, plant-based solutions, keeping you snatched and fit with our waist trainers/Body Shappers to giving you the tiny waistline you desire.
We are recruiting to fill the position below:
Job Title: Front Desk Officer
Locations: Abuja (FCT) and Lagos
Employment Type: Full-time
Front Desk Officer at Mapia Tea
Overview
The Front Desk Officer at Mapia Tea will be the physical face of the company at our stores.
She will warmly welcome customers to the store, provide guidance to customers' requests, educate customers on a new and existing product, and give the customers a great experience during their visits to our stores.
While bearing in mind that "first impression lasts long".
Responsibilities
The front desk officer must always be available at the reception to attend to every customer.
She will take customers' orders and provide the appropriate support.
She must be able to educate and convince customers about new and existing products.
She must always provide a welcoming environment for every customer.
She must be able to facilitate error-free payment transactions for customers without oversight.
She must ensure that all products handed to customers are well packed and paid for.
She must collaborate with the office assistants to ensure a conducive vicinity for customers always, which must always be neat and presentable.
She will accept letters, packages, and new orders brought to the store, and redirect them to the appropriate departments.
She will request, order and track office supplies and equipment.
She will report office repairs, services and needs for procurement to the concerned department in a timely manner.
She must maintain a good record of products received and sold to avoid running out of stock or restocking a wrong product.
She must always report every product related complaint and drop in sales of any product to management in real-time.
The candidate must be able to attend to every customer without getting agitated, violent, rude, or defensive.
And any other duties assigned.
Qualifications / Requirements
OND, HND, or BSc in Sales, Marketing or any related field.
Minimum of 1 year experience in this role or related roles.
Excellent communication skills, both in writing and orally.
Excellent organizational and multi-tasking abilities.
The candidate must be a friendly face and a breath of fresh air.
Good Interpersonal skills and Customer Service Orientation.
The candidate must be able to dress appropriately.
The candidate must always be punctual.
Good Knowledge of Ms word and Excel will be an added advantage.
Application Closing Date
15th March, 2022.
Method of Application
Interested and qualified candidates should send their CV and Cover Letter to: Mapiatea.recruitment.team@gmail.com using the Job Title and Preferred location as the subject of the email, e.g "Front Desk Officer Abuja" or "Front Desk Officer Lagos".