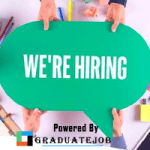 Graduate Architect at Carve Atelier, Qualified persons should Apply. Click for more jobs
CARVE Atelier is an architectural and design company that is specialized in conceiving modern, high-calibre solutions for architectural design and urban planning projects.
We are recruiting to fill the position below:
Job Title: Graduate Architect
Location: Lagos Mainland, Lagos
Employment Type: Full-time
Graduate Architect at Carve Atelier
Job Summary
Responsible for the development of the aesthetic appearance, building layout, building envelope, and interior finish systems for construction projects. Performs project support as directed; assists in developing strategies and solutions for the complex concept, planning, design or implementation challenges.
Principal Duties/ Responsibilities
Design:
Use simple design approaches to translate ideas into design solutions
Knowledge of principles of design research, simple types of design software for design creation, spatial and functional relationships, and existing industry design processes
Conduct design research to uncover insights for design translation
Analyze data to examine, understand and describe user needs
Apply basic technical knowledge to achieve the desired design that best addresses user needs
Identify common design failures and defects and ways to prevent them
Coordinate among relevant teams and specialists
Propose basic finishes and prepare specifications for a project
3D Modelling:
Use basic 3D modelling software to create basic three-dimensional models for equipment, components, and systems
Understand basic 3D modelling software for design creation
Basic knowledge of model creation in adherence to prevailing regulatory and safety standards
Design Standards and specification:
Implement design standards to ensure the designs meet commonly acceptable levels of quality and requirements
Participate in quality assurance/quality control (QA/QC) reviews and checks on design standards and specification documents
Design for Safety, Sustainability, and Maintainability:
Recognize and highlight safety and health risks inherent in designs in compliance with commonly accepted control measures.
Maintain records on safety and health issues identified during the design review process and actions taken
Identify critical maintenance items that can be influenced by design
Evaluate the feasibility of cost savings in maintenance and sustenance requirements
Requirements
Candidates should possess a Bachelor's Degree with 0 – 2 years of experience in a similar capacity
Proficient in AutoCAD, SketchUp, Revit, Illustrator or other design programs
Excellent portfolio of previous works
Creative talent, imagination and eye for design
Communication and presentation skills
Project management skills.
Application Closing Date
18th February, 2022.
How to Apply
Interested and qualified candidates should please send their CV and Portfolio to: admin@carveatelier.com using the Job Title as the subject of the mail.