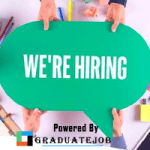 Graphic Design Intern at Trontier Limited, Suitable candidates should Apply. Click for more Jobs at Trontier Limited
Trontier Limited – We are an innovative frontier technology company that harnesses the power of AI and IoT technologies to provide digitalization services that meet the data-driven and automation needs of businesses.
We are recruiting to fill the position below:
Job Title: Graphic Design Intern
Location: Lagos
Employment Type: Full-time
Graphic Design Intern at Trontier Limited
About the Role
We are looking for a graphics design intern to design a production team and deliver solutions and services such as presentation design, print and image selection.
You will be working with our consultants to digitize, optimize and strategize messaging, bringing insights to life.
The ideal candidate will be someone who has an entrepreneurial spirit to take ownership of products and work to continually improve.
You will co-create distinctive visual communication solutions and inspiring stories alongside our consultants. You will collaborate with product managers, UX designers and front end developers to guide the design process from initial requirements to visual design delivery.
Ideal Candidate
Candidates should possess a Bachelor's Degree with 2 – 10 years of work experience.
Have some years of work or business experience in graphics design.
Has the ability to implement and expand frontier platform features, establishing and promoting design guidelines, best practices and standards.
Is extremely organized and detail-oriented.
Has strong communication skills to present and defend designs to CEO/COO as well as partners, stakeholders and clients if needs arise.
Has the ability to push our visual design and brand forward in line with the latest design trends..
Enjoys giving and receiving constructive feedback.
Creative thinker.
What's In It For You?
The compensation for these roles would come in the form of periodic corporate rewards based on performance.
Opportunity to build and grow your professional network by engaging with other professionals in the field.
The likelihood for retainer benefits.
Flexible hours.
An exciting environment to express your passion and talents, and develop talents for the future of the work era.
An opportunity to contribute to a leading company, and grow personally and professionally.
Application Closing Date
31st August, 2022.
To apply for this job please visit forms.gle.