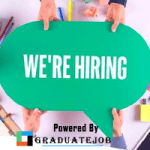 Website Focus Point Homes and Properties
Focus Point Homes and Properties are the renowned developers of the Galilee Estate in Portharcourt city. We create dream homes that seamlessly blend luxury with affordability making premium living accessible to all. #Luxurywithinreach".
Graphics Designer at Focus Point Homes and Properties, Qualified candidates should Apply. Click for more Jobs
We are recruiting to fill the position below:
Job Title: Graphics Designer
Location: Port Harcourt, Rivers,
Employment Type: Full-time
Graphics Designer at Focus Point Homes and Properties
Job Description
We are looking for a Graphic Designer to create engaging and on-brand graphics.
The Graphic Designer job description includes the entire process of defining requirements, visualizing and creating graphics including illustrations, logos, videos, layouts and photos.
You'll be the one to shape the visual aspects of our social media platforms.
Responsibilities
Study design briefs and determine requirements
Schedule projects and define budget constraints
Conceptualize visuals based on requirements
Prepare rough drafts and present ideas
Develop illustrations, logos and other designs using software or by hand
Use the appropriate colours and layouts for each graphic
Work with the Marketing team to generate ideas and designs
Test graphics across various media
Amend designs after feedback
Ensure final graphics and layouts are visually appealing and on-brand.
Qualification
Graduate with diploma in Graphic Designing.
Experience:
Requirements:
Proven graphic designing experience
A strong portfolio of illustrations or other graphics
Familiarity with design software and technologies (such as InDesign, Illustrator, Dreamweaver, Photoshop)
A keen eye for aesthetics and details
Excellent communication skills
Ability to work methodically and meet deadlines.
Salary
N50,000 – N70,000 / month.
Application Closing Date
16th October, 2023.