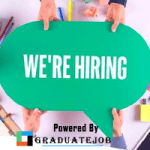 Graphics Designer Intern at WebMET Creatives, Qualified candidates should Apply. Click for more Internships.
WebMET Creatives, a startup Web Design Company located in Ajah, Lagos, is looking for a qualified candidate to join their expanding team in the position below:
Job Title: Graphic Designer Intern
Location: Ajah, Lagos
Employment Type: 100% Remote
Graphics Designer Intern at WebMET Creatives
Responsibilities
The essential duties of the Graphic Design Intern include but are not limited to the following activities:
Work with other creative team members to produce content.
Create guidelines for how logos and other branding materials should be displayed.
Preparing rough drafts of materials (ideas, concepts, design) based on an agreed brief.
Reviewing final layout and suggesting improvements if required.
Requirements
The candidate must have at least a year of proven graphic design experience.
Excellent IT skills and verse knowledge of graphical software programs like. CorelDraw, Adobe's Creative Suite including Photoshop, Illustrators, InDesign and others.
A strong portfolio of illustrations or other graphics.
Attention to detail and ability to balance multiple simultaneous projects.
Job is 100% Remote.
Application Closing Date
26th February, 2022.
Method of Application
Interested and qualified candidates should forward their CV to: hello@webmetcreatives.com using the job title as the subject of the mail.
Note: In addition to CV, candidates are advised to send in links to their portfolio.