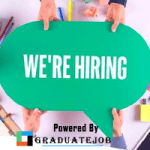 Website A Reputable Construction Company
Rosabon Financial Services Limited - Award winning Rosabon Financial Services is a member of the Concept Group. Licensed by the Central Bank of Nigeria, CBN on April 22, 1993 and being a long standing member of the Equipment Leasing Association of Nigeria (ELAN), the organization has evolved into Nigeria's leading Non-Banking Financial Intermediary and Equipment Leasing firm focused on niche and general markets.
Administrative and Logistics Officer at Rosabon Financial Services Limited, Qualified candidates should Apply. Click for more Jobs
Job Title: Administrative and Logistics Officer
Location: Rivers
Employment Type: Full-time
Administrative and Logistics Officer at Rosabon Financial Services Limited
Duties & Responsibilities
Logistics Coordination:
Manage and oversee the organization's logistics, including transportation, warehousing, and distribution of goods and supplies.
Ensure timely delivery of materials to various locations and resolve any logistical challenges that may arise.
Procurement and Inventory Management:
Source and acquire office supplies, equipment, and services, while maintaining adequate inventory levels.
Liaise with vendors and negotiate favorable terms to obtain cost-effective solutions.
Facilities Management:
Oversee the maintenance and repair of office facilities, equipment, and infrastructure.
Ensure a safe and conducive work environment for all employees.
Administrative Support:
Provide general administrative support to all departments, including handling correspondence, data entry, filing, and document management.
Record Keeping:
Maintain accurate records of administrative and logistical activities.
Prepare reports and summaries as required by management.
Budget Management:
Assist in budget planning and monitor expenses related to administrative and logistical activities.
Identify cost-saving opportunities without compromising quality.
Compliance and Regulation:
Stay up-to-date with relevant laws and regulations related to administrative and logistics operations.
Ensure compliance with company policies and legal requirements.
Requirements
Candidates should possess an HND / B.Sc Degrees with 1 – 3 years relevant work experience.
Application Closing Date
Not Specified.
Method of Application
Interested and qualified candidates should send their CV to: careers@conceptgroup-ng.com using the Job Title as the subject of the email.