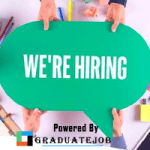 Website Selective Security International Limited
Selective Security International Limited is a Category 'A' licensed private security guard company driven by passion and integrity. With over 20 years industry experience and service oriented professional approach, we have earned the loyalty of our clients as a reliable partner. We have gained a lot of expertise from different business sectors.
Head of Operations at Selective Security International Limited, Qualified candidates should Apply. Click for more jobs
We are recruiting to fill the position below:
Job Title: Head of Operations
Location: Ikeja, Lagos
Employment Type: Full-time
Head of Operations at Selective Security International Limited
Job Description
Supervise the operations of all security personnel and equipment.
Lead and direct all activities relating to the provision of security services to the company's clients including physical security and electronic security.
Be responsible for client operational requirements and maintain strong relationship with relevant security/law enforcement agencies.
Oversee and engage with Managers and Coordinating supervisors to ensure that security operations across all locations in the country meet the company's service delivery standards and client operational requirements.
Conduct On the job training at all locations.
Oversee staff disciplinary issues and report to the Management.
Conduct periodic performance appraisal of all LMs/CS & other direct reports.
Schedule periodic security surveys and vulnerability assessments of all existing Clients at least once a year and as deemed necessary based on changes in risk assessment and activities at Client's location.
Provide support to package service offerings to prospects
Provide input into strategic decisions that affect Operations department and input for developing the annual budget.
Approve monthly Staff Nominal Roll prior the payment of salary.
Any other management Ad hoc assignments.
Remuneration
N150,000 – N200,000 Monthly.
Application Closing Date
15th November, 2023.
Method of Application
Interested and qualified candidates should send their CV and Cover Letters to: joseph.a@selectivesecurityng.com using the Job Title as the subject of the mail.