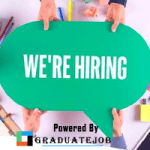 Human Resource Officer at UHR Consult Limited, Qualified candidates should Apply. Click for more Jobs
UHR Consult Limited – Our client, a prominent real estate firm located in Abuja, is recruiting to fill the position below:
Job Title: Human Resource Officer
Location: Abuja (FCT)
Employment Type: Full-time
Human Resource Officer at UHR Consult Limited
Job Description
Our client is seeking a highly competent and experienced Human Resource Officer to oversee all facets of human resources operations within the organization.
The ideal candidate will have a strong background in talent acquisition, employee relations, performance management, and compliance with labour laws and regulations.
Job Overview and Duties
The Human Resource officer amongst other duties, will be able to:
Develop and implement human resources policies, procedures, and programs in line with the organization's strategic goals and objectives.
Coordinate the recruitment and selection process, including job posting, screening, interviewing, and onboarding of new employees.
Oversee employee relations, addressing and resolving employee grievances, conflicts, and disciplinary issues in a fair and consistent manner.
Develop and implement performance management systems, including performance appraisals, goal setting, and career development plans.
Ensure compliance with labour laws and regulations, including maintaining accurate employee records, managing employee contracts, and handling work permits and visas.
Develop and deliver employee training and development programs to enhance skills and knowledge.
Administer employee compensation and benefits programs, ensuring fairness, competitiveness, and compliance with organizational policies and legal requirements.
Manage employee health and safety initiatives, including coordinating training programs and ensuring compliance with safety regulations.
Stay updated on industry best practices and trends in human resources management, proactively recommending improvements and innovative approaches.
Collaborate with senior management to develop and implement HR strategies aligned with the organizations objectives.
Foster a positive and inclusive work environment, promoting diversity and equal opportunities for all employees.
Prepare and present HR reports and analytics to management as needed.
Requirements
Bachelor's Degree in Human Resources Management, Business Administration, or a related field.
3+ years' experience in talent acquisition, employee relations, performance management, and training and development preferably with in the real estate industry.
Familiarity with of Nigeria labour laws and regulations.
Excellent interpersonal and communication skills, with the ability to build positive relationships at all levels of the organization.
Proficiency in HRIS software and other relevant HR tools.
Ability to maintain confidentiality and handle sensitive employee information with discretion.
Professional certification in Human Resources Management (e.g., CIPM, HRCI) is a plus.
Remuneration
N150,000 – N200,000 net salary.
Application Closing Date
23rd November, 2023.
Method of Application
Interested and qualified candidates should send their CV in PDF format to: uhrconsultlimited2019@gmail.com clearly indicating the Job Title as subject of your mail.