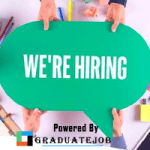 Website Reputable Insurance Company,
We are a reputable Insurance company that provides financial, family, and future security to individuals and businesses. Our wide range of personalized investment and pure protection plans assure a dependable safety net and emotional shield to clients and their loved ones during periods of uncertainty or loss.
Sales and Marketing Specialist at a Reputable Insurance Company, Qualified candidates should Apply. Click for more Jobs
We are recruiting results-driven candidates to rightly fill up the position below:
Job Title: Sales and Marketing Specialist
Location: Lagos
Employment Type: Part-time
Sales and Marketing Specialist at a Reputable Insurance Company
Responsibilities
Provide financial and estate planning services to clients.
Network with investment professionals and non-professionals to build a clientele base of leads.
Prepare financial plans for prospects.
Create the need for insurance as a tool for family and asset protection.
Qualifications
NCE, OND, HND, B.Sc, or M.Sc in any discipline.
0-5 years of industry experience (selected candidate would be trained and certified on the job by the company)
Excellent verbal and written communication skills.
Analytical and problem solving skills.
Ability to learn quickly.
Excellent interpersonal skills.
Good negotiation skills.
Benefits
Quarterly Bonus rewards
Group Life cover
HMO
Free Certification
Yearly promotion (based on performance).
Application Closing Date
Not Specified.
How to Apply
Interested and qualified candidates should send their Applications and CV to: Juliet.Otu@heirslifeassurance.com using the Job Title as the subject of the mail.