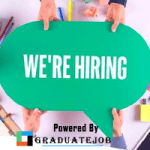 Website A Reputable Financial Instituion
Information Technology Trainee at a Reputable Financial Instituion, Qualified candidates should Apply. Click for more Jobs
A reputable financial instituion is recruiting suitably qualified candidates to fill the position below:
Job Title: Information Technology Trainee
Location: Lagos
Employment Type: Full-time
Information Technology Trainee at a Reputable Financial Instituion
Job Overview
We are seeking a dynamic and motivated Information Technology Graduate Trainee to join our team. The ideal candidate will be a recent graduate with a strong academic background in Computer Science, Electrical Engineering, Mechanical Engineering, Computer Engineering, or Mathematics.
This is a unique opportunity for a highly driven individual to kickstart their career in the field of Information Technology.
Responsibilities
Engage in comprehensive training and on-the-job learning.
Collaborate with cross-functional teams on IT initiatives.
Provide support in troubleshooting and maintaining IT systems.
Contribute to the planning and execution of IT projects.
Qualifications
Education: Minimum 5 O'level credits, Bachelor's in relevant field (2nd class lower/HND upper credit).
Certifications: IT Professional certifications are advantageous.
NYSC: Completed or possesses exemption certificate.
Age: Not older than 26 by December 2023.
Skills:
Analytical and problem-solving skills.
Basic understanding of IT principles.
Strong communication and interpersonal skills.
Ability to work collaboratively.
Application Closing Date
15th November, 2023.