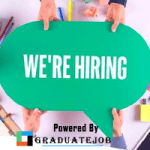 Website JustHR Job Recruitment
JustHR is a consulting and outsourcing company that specializes in thorough enrollment processes for the right fit employee for organizations. We develop a systematic approach to improving organizational effectiveness - one that aligns strategy, people and processes.
We are recruiting to fill the position below:
JustHR Job Recruitment
Job Title: Female Head of Growth (Marketing)
Location: Ajao Estate, Lagos
Employment Type: Full-time
Job Description
Strategy; build and communicate a comprehensive growth marketing plan to help the business achieve its revenue goals.
Management; lead, develop and inspire a team of growth marketers.
Research; analyse our current acquisition and retention strategies, research competitors and talk to our customers to help inform your strategy.
Customer Acquisition; take ownership for our customer acquisition channels
Customer Conversion; own and improve how we convert our prospects into customers.
Customer Retention; ensure our customers get to their 'AHA' moment quicker
Stakeholder Management; work with a variety of stakeholders across sales, finance, marketing, development, operations and customer success to make sure plans and projects are communicated accordingly.
Analysis; use GA, Google Tag Manager and Mixpanel to measure and improve CAC, MRR and LTV.
Job Title: Male Digital Marketer
Location: Ajao Estate, Lagos
Job Description
Research advertising trends
Research competitors' pricing and products
Decide on appropriate placement of ads
Determine what content will reach customers
Develop projects to create content
Publish digital marketing content online
Implement email marketing campaigns
Measure digital traffic
Monitor social media and Google Analytics
Optimize paid advertising
Report on the growth and analytics of campaigns to stakeholders
Scale campaigns to maximize ROI
Monitor project status and budget
Conduct market research to inform campaigns.
Salary
N80,000 – N100,000 / month.
Application Closing Date
31st October, 2023.
How to Apply
Interested and qualified candidates should send their CV to: vincintoire@gmail.com using the Job Title as the subject of the mail.
Job Title: Technical Manager
Location: Ikeja, Lagos
Employment Type: Full-time
Description 
Our client requires the services of a highly capable and hands-on *Technical Manager* to lead our Emerging Business Team.
This team is responsible for the end-to-end management of our diverse portfolio of healthcare technology solutions, which includes but is not limited to Medical Grade Networks, IoT for Healthcare, Queue Management Systems, IP Nurse Call Systems, and Medical Gas Systems.
The ideal candidate should possess a strong technical background, a deep understanding of these technologies, and the ability to effectively lead and support the team in delivering consistent results.
Key Responsibilities
Team Leadership:
Lead and manage the Emerging Business Team, fostering a collaborative, innovative, and high-performance team culture.
Provide guidance, mentorship, and support to team members, ensuring their professional growth and development.
Technical Expertise:
Possess a broad and in-depth technical understanding of healthcare technology solutions, including but not limited to Medical Grade Networks, IoT for Healthcare, Queue Management Systems, IP Nurse Call Systems, and Medical Gas Systems.
Act as a subject matter expert and provide technical leadership in solution design, implementation, and support.
Project Management:
Oversee the planning, execution, and successful delivery of projects within the Emerging Business portfolio.
Ensure that projects are completed within defined timelines, scopes, and budgets.
Proactively identify and mitigate project-related risks and issues.
Client Engagement:
Build and maintain strong client relationships, understanding their specific needs and expectations.
Collaborate closely with the sales and business development teams to identify opportunities for expanding our services and solutions
Quality Assurance:
Establish and enforce quality standards, best practices, and compliance requirements for healthcare technology solutions.
Conduct regular quality assessments and audits to ensure high-quality service delivery.
Resource Management:
Effectively manage team resources, including staffing, training, and performance evaluations. – Allocate resources strategically to meet project demands and objectives.
Budget Management:
Work closely with the finance department to develop and manage the budget for the Emerging Business Team.
Monitor expenditures and ensure cost-effectiveness in project execution.
Qualifications
Bachelor's Degree in Computer Science, Engineering, or a related technical field.
Advanced Degrees or relevant certifications are a plus.
Extensive experience in healthcare technology solutions, with a broad technical knowledge across various domains.
Proven leadership skills with a minimum of 2 years of managerial experience.
Strong project management abilities and a track record of successful project delivery.
Exceptional problem-solving and communication skills.
Ability to thrive in a fast-paced and dynamic environment.
Knowledge of the African healthcare sector and its unique challenges is highly desirable.
Application Closing Date
Not Specified.