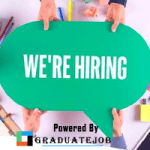 Sales and Marketing Affiliate at Digital Beavers, Qualified candidates should Apply. Click for more Jobs at Digital Beavers
Digital Beavers is a team of web designers, developers, and online marketing experts based in Lagos, Nigeria, and Seattle, the United States that helps businesses grow their online presence and communities.
We are recruiting to fill the position below:
Job Title: Sales and Marketing Affiliate
Location: Nationwide
Employment Type: Contract
Sales and Marketing Affiliate at Digital Beavers
Are You Who We Seek?
Are you a confident, friendly, customer-focused, and target-driven individual?
Are you independent and able to work on your own without supervision?
Would you like an extra income of N75,000 – N300,000 monthly? You could earn this either as a side hustle or a full-time job.
If your response is YES to all the above questions, you could be the sales and marketing superstar we seek.
We Are Seeking Someone Who is
Able to classify target markets and identify, contact, and convert leads;
Confident, friendly, customer-focused, and target-driven individual;
Independent, and able to work without supervision;
Able to convey the services we offer to prospective clients professionally;
Willing to help prospects throughout the delivery process;
Tenacious about following up with prospects and converting every established lead;
Able to use different media to sell, including phone, email, flyers, social media, and face to face.
Your age, academic qualifications, and years of experience on paper are not as important as your performance.
What To Gain?
Remember that you are your boss, and only you can determine the amount of income you wish to earn. You could earn N30,000, N75,000, or even up to N300,000 monthly. By the N300,000 stage, you attain a High Performer affiliate status and are granted access to an additional income opportunity to earn up to one million naira in subsequent months. This position is commission-based and rewards performance.
Application Closing Date
1st May, 2022.