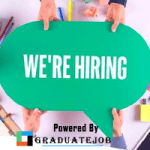 Website ZIP Automations
ZIP Automations is a control engineering firm which executes automation projects and trains engineers/technicians on control technology for industries. Programmable Logic Controllers (PLC) has become central in industrial control systems round the world. However, it's knowledge base is still relatively low in developing countries. We seek to bridge this gap by building automated systems and offering control engineering training. We train on PLCs/automation with the aid of model systems (using flowmeters, levelmeters, VFDs etc) to simulate real industrial processes.
Trainee Engineer—NYSC Corps Member at ZIP Automations—qualified candidates should Apply. Click for more Jobs
We are recruiting to fill the position below:
Job Title: Trainee Engineer – NYSC Corps Member
Location: Lagos
Employment Type: Full-time
Trainee Engineer – NYSC Corps Member at ZIP Automations
Job Description
A reputable industrial automation company seeks to recruit young and energetic candidates for the role of trainee control systems engineer.
This position will be responsible for:
Programming automation and controls systems involving PLCs (programmable logic controllers)
Create and read logic and flow diagrams for program design, programming, simulation and testing, and start-up
Create detailed documentation, including system specifications, wiring diagrams, and operating manuals, to facilitate system maintenance and future upgrades.
Identifying and resolving issues in automated systems
Develop and maintain a good working relationship across all levels in the organization.
Ability to provide enriched feedback to enhance individual performance
Completes all safety training as assigned by the Company.
Perform additional duties/assignments that may be required by management from time to time.
Basic Qualifications
Bachelor's Degree in Electrical / Mechanical Engineering or related fields.
Basic knowledge of Electrical and industrial Systems.
Demonstrated ability to multi-task and prioritize different projects and work load
Proven ability to communicate effectively (written and verbally) with peers, management, vendors and customers.
Self-motivated and customer-centric.
Application Closing Date
Not Specified.
Method of Application
Interested and qualified candidates should:
Click here to apply online
Note: Corpers only. Applications from non corpers wont be considered.