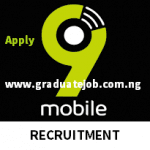 Website 9mobile Nigeria
9mobile is a Nigerian private limited liability company. EMTS acquired a Unified Access Service License from the Nigerian Communications Commission in 2007. The License enables EMTS provide Fixed Telephony (wired or wireless), Digital Mobile Services, International Gateway Services and National/Regional Long Distance Services in addition to spectrum assignments in the 900 and 1800 MHz bands.
Specialist, IT and Technical Audit at 9mobile Nigeria, Qualified candidates should Apply. Click for more Jobs 
We are recruiting to fill the position below:
Job Title: Specialist, IT and Technical Audit
Job: IRC4711
Location: Lagos
Specialist, IT and Technical Audit at 9mobile Nigeria
Job Summary
Ensure timely and proper implementation of the approved audit plan for the business, coordinate and follow up on the implementation of all audit recommendations.
Principal Functions
Plan audit work that sufficiently evaluates control environments in units of varying complexity using best practice approaches and techniques.
Perform compliance, financial and operational audits in accordance with professional standards for internal auditing.
Present audit results to the management of the audited unit in the appropriate context understood by the recipients.
Assess complex activities to identify potential financial, operational, strategic and compliance risks, which warrant audit and management attention.
Assist in performing risk assessments and setting up the internal audit and compliance audit plan.
Review audit programs and apply audit techniques appropriate for the scope of the audit mission.
Assess existing business processes and strategies and recommend areas of improvement based on international best practices.
Review the design of existing internal controls and suggest ways of optimizing their effectiveness.
Manage team to achieve all audits and oversee the developmental needs of the team.
Supervise the annual audit plan and manage a team to achieve it.
Prepare audit reports and proffer recommendations making recommendations to improve the control environment.
Follow up on audit recommendations and supporting the business lines to implement findings appropriately.
Advise business management on enhancements and efficiencies to their operating and control environment.
Keep abreast with current developments that may affect audit and the latest audit techniques, methods, tools, and procedures.
Perform special assignments including fraud investigations etc.
Carry out any other assignment as may be assigned by Head, Internal Audit
Educational Requirements
First Degree in a relevant discipline from a recognized university.
CISA, CIA, CFE would be an added advantage
Six (6) to Eight (8) years work experience with three(3) years in a supervisory role
Experience, Skills & Competencies
Knowledge:
Financial Accounting/Reporting
Internal Audit/Control
Skills:
Accountability
Communication
Delegation/ Supervisory
Behaviour:
Passion for Excellence
Integrity
Empowering people
Growing people
Teamwork
Customer Focus
Application Closing Date
Not Specified.