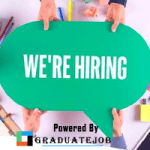 Website Vitalvida Limited
Vitalvida Limited provides you with an excellent eCommerce experience as our clients satisfaction matters a lot to us. We have an amazing combination of Products on our various websites that are tailored to meet your needs.
Logistics and Operations Coordinator at Vitalvida Limited, Qualified candidates should Apply. Click for more Jobs
We are recruiting to fill the position below:
Job Title: Logistics and Operations Coordinator
Location: Yaba, Lagos
Employment Type: Full-time
Logistics and Operations Coordinator at Vitalvida Limited
Job Description
Are you a proficient communicator with a passion for streamlining logistics and improving operations? We are actively seeking a skilled Logistics and Operations Coordinator to join our team full-time at our Yaba office. Vitalvida Limited who is dedicated to delivering unparalleled quality and service, ensuring our operations are meticulous and our customers experience nothing but excellence.
Role Overview
As a Logistics and Operations Coordinator at Vitalvida, you will play a crucial role in refining our inventory and logistics operations, ensuring procedures are seamless and efficient from start to finish.
Key Responsibilities
Lead the Telesales team to ensure cohesive operations in sales, inventory management, and logistics.
Analyze stock patterns, anticipate inventory requirements using historical data and market trends, and provide actionable insights for strategic decision-making.
Promote a data-centric approach in inventory management, ensuring decisions are based on rigorous analytics.
Collaborate with departments such as Marketing and Finance to align operational strategies with company goals.
Source, recruit, and manage delivery agents to ensure top performance and alignment with company standards.
Enforce industry regulations and quality standards throughout inventory management and logistics.
Prevent stock-outs and maintain product availability at all times.
Supervision Duties:
Oversee Stock Controllers to maintain accurate inventory records and enforce efficient inventory management protocols.
Mentor Regional Delivery Managers to ensure smooth operations between the warehouse and delivery teams.
Guide and support Delivery Agents to enhance synchronization between the warehouse and delivery points.
Proactively identify potential disruptions in the logistics chain and devise counteractive plans.
Identify opportunities for procedural enhancements and introduce best practices to increase efficiency.
Qualifications
Bachelor's Degree in Business, Logistics, Supply Chain, or a related field.
Minimum of 4 years in a managerial role overseeing logistics and operations.
Experience with ERP systems.
Proven capability in inventory analysis and logistics streamlining.
Strong leadership and team management skills.
Robust analytical, troubleshooting, and decision-making skills.
Familiarity with relevant software and tools pertinent to inventory and logistics.
What We Offer
Salary: N70,000 – N150,000 Monthly (Competitive salary package).
Opportunities for continuous learning and growth.
A fully remote role, allowing you the flexibility to design your workspace and balance work with personal life.
An inclusive and team-driven atmosphere where collaboration is always at the forefront.
Application Closing Date
Not Specified.
Method of Application
Interested and qualified candidates should:
Click here to apply online
Note: If you believe you are the right fit for this role, please fill out our application form.
To apply for this job please visit forms.gle.