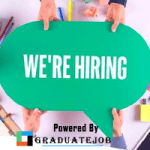 Personal Assistant at a Fashion Company, Qualified candidates should Apply. Click for more Jobs
We are a reputable Fashion company, we sell female clothes online, our work space is located at Ogba. We are recruiting to fill the position below:
Job Title: Personal Assistant (For Content Creation & Other Business related works)
Location: Ogba, Lagos
Employment Type: Full-time
Personal Assistant at a Fashion Company
Description
We are looking to employ a Social Media savvy lady, that is content creation aware and can assist in the area of being a support staff in that regard. Will be working nights during the week and daytime on weekends (5-6 times a week)
The CEO creates content for the business majorly at night during the week and and during the day on weekends.
You will be an assistant to set-up ahead of posting, source content ideas, arrange the business space after content creation, and assist with other business-related things that rests on the CEO.
This opening is available for only those who can work nights (9pm to 9am) weekdays, (8am to 6pm on weekends) Daytime
Interested candidates will works 5 – 6 days a week
Qualifications
Interested candidates should possess an OND, HND, or B.Sc Degree with 0-1 year experience.
Salary
N50,000 – N55,000 / Month.
Application Closing Date
4th November, 2023.
How to Apply
Interested and qualified candidates should send their Resume to: funmipoker@gmail.com using the Job Title as the subject of the email.