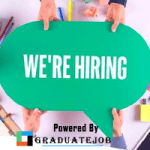 Website A Reputable Terminal Operations Company
Personal Assistant (PA) To MD / CEO at a Reputable Terminal Operations Company, Interested candidates should Apply. Click for more Jobs
A key player in the Terminal Operations Industry, with the well-outlined focus on achieving the best turnaround time for vessels and most efficient Cargo handling with best customer service delivery, urgently seeks seasoned professionals to fill the position below:
Job Title: Personal Assistant (PA) To MD / CEO
Location: Port Harcourt, Rivers
Personal Assistant (PA) To MD / CEO at a Reputable Terminal Operations Company
Job Description
To take on strategic assignments and support the CEO in positively impacting on the company's Mission.
Maintain a database of the CEO's contacts (phone, fax numbers, e-mail, addresses, etc).
Attending to routine correspondence (Inward and Outward) as well as following up on them.
Co-coordinating arrangements for meetings/minutes/circularization and follow up on pending issues.
Tactfully attending to customers' requests/queries and where necessary, especially in the absence of the CEO.
Dairy management and follow up for the CEO.
Attending to top clientele/customers in the absence of, or as directed by the CEO.
Arranging travel, visas and accommodation and, sometimes, travelling with the CEO to meetings or to provide general assistance.
Process monthly expense reports with supporting documents.
Responsible for stationery acquisition including periodicals and subscriptions.
Maintaining and enhancing the working environment of the Executive office.
Carrying out routine administrative duties like photocopying, filing etc.
Performs any other task that assures the overall efficiency and effectiveness of the Executive office.
Qualifications / Competencies
Must be a Female for gender balance.
Minimum of 2 years cognate experience as a Personal Assistant to a highly Executive.
Excellent Communication Skills (Verbal & Written)
Ability to Multitask
Good writing and reporting skills
Attention to details
Between 23/24 years of age.
Application Closing Date
3rd March, 2022.
Method of Application
Interested and qualified candidates should forward their updated Resumes / CV to: talentr658@gmail.com using the Job Title as the subject of the mail.