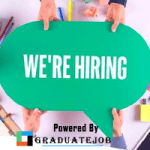 Website Miloshe
Miloshe is a dynamic and innovative fashion e-commerce company, dedicated to providing fashion-forward individuals with a curated selection of trendy and stylish clothing, accessories, and footwear. Our mission is to empower our customers to express their unique style and confidence through a carefully curated collection that blends the latest fashion trends with timeless classics
Personal Assistant (Mainly Remote) at Miloshe, Qualified candidates should Apply. Click for more Jobs
We are recruiting to fill the position below:
Job Title: Personal Assistant (Mainly Remote)
Location: Ikoyi, Lagos
Employment Type: Full-time
Personal Assistant (Mainly Remote) at Miloshe
Responsibilities
Provide comprehensive administrative support to the organization, including managing emails, scheduling appointments, and coordinating meetings.
Conduct internet research on various topics, gather relevant information, and present findings in a clear and concise manner.
Assist with social media management, including content creation, scheduling posts, and monitoring online presence.
Act as a point of contact for clients, stakeholders, and colleagues, ensuring prompt and professional communication at all times.
Prepare and proofread documents, reports, and presentations, maintaining a high level of accuracy and attention to detail.
Manage and maintain calendars, travel arrangements, and itineraries, ensuring efficient planning and coordination.
Assist with data entry, file management, and document organization to ensure smooth workflow and accessibility of information.
Prioritize tasks effectively, meet deadlines, and adapt to changing priorities in a fast-paced environment.
Provide exceptional customer service by addressing inquiries, resolving issues, and maintaining a positive and helpful attitude.
Learn and develop knowledge of SEO and Facebook ads, and support related tasks as required.
Requirements
Excellent written and verbal communication skills, with a professional approach to work.
Strong organizational and time management abilities, with the capacity to multitask and prioritize tasks under pressure.
Proficiency in using a laptop and familiarity with remote work tools and technologies.
Experience in social media management, including content creation, scheduling, and analytics.
Strong internet research skills, with the ability to gather and present information effectively.
Knowledge of SEO and Facebook ads is preferred but not required. Willingness to learn and develop these skills is essential.
Attention to detail and a commitment to maintaining a high level of accuracy in all tasks.
Self-motivated and proactive, with the ability to work independently and collaboratively as part of a virtual team.
Strong problem-solving skills and the ability to think critically and make sound decisions.
Previous experience as a personal assistant or in a similar administrative role is preferred but not mandatory.
Application Closing Date
23rd November, 2023.