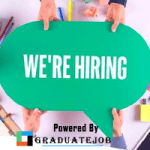 Website Pixels Digital Limited
Pixels as an organization came into existence at a time when Digital Photography was barely introduced or even acknowledged. The need for instant pictures with excellent quality needed to be satisfied.
Pixels Digital Limited Job Recruitment, Qualified candidates should Apply. Click for more Jobs.
We are recruiting to fill the position below:
Pixels Digital Limited Job Recruitment
Job Title: Photographer / Editor
Location: Ibadan, Oyo
Employment Type: Full-time
Responsibilities
Ensure the smooth administration and operations of the photo shoot session or outdoor events
Ensure excellent camera and light quality setting for good pictures
Provide good range of postures for customers
Maintain and use variety of backdrops to enhance photo shoot sessions
Ensure that the studio equipment, props and fittings are well-maintained and utilized
Ensure that the studio is in a clean, functional, orderly and customer-friendly condition at all times
Ensure a very good understanding of customers' photo needs and preferences before commencing photo session
Study market and social trends to determine service delivery options, fashion trends and other factors that may affect service delivery.
Ensure that a variety of photo shots are taken to provide the customer a range of options from which to choose
Optimize the use of studio equipment in taking quality pictures for the customer
Develop professional relationships with customers to make them feel comfortable and get their maximum cooperation during the photo shoot session
Arrange still-life objects, products, scenes, props and backgrounds
Liaise with other outlets staff on issues enhancing productivity
Manage photo shoot process to reduce turnaround time and increase productivity.
Qualifications
OND or Bachelor's Degree in Photography Art preferred
1 – 2 years relevant work experience.
Proven experience as a photographer in a competitive industry
Excellent verbal and written communication skills
Detailed knowledge of photography art and lighting
Strong creative presence and artistic flair
Customer focus with a desire to over-deliver on quality.
Job Title: Digital Experience Executive
Location: Ibadan, Oyo
Employment Type: Part-time
Responsibilities
As a Digital Experience Executive you'll need to:
Assist in the formulation of strategies to build a lasting digital connection with consumers
Provide creative ideas for content marketing and update the social media
Plan and monitor the ongoing company presence on social media (Twitter, Facebook etc.)
Maintain partnerships with media agencies and vendors
Launch optimized online adverts through Google Adwords, Facebook etc. to increase company and brand awareness
Acquire insight in online marketing trends and keep strategies up-to-date
Be actively involved in SEO efforts (keyword, image optimization etc.)
Prepare online newsletters and promotional emails and organize their distribution through various channels
Collaborate with designers to improve user experience
Measure performance of digital marketing efforts using a variety of Web analytics tools (Google Analytics, WebTrends etc.).
Requirements and Skills
Candidates should possess a Bachelor's Degree qualification with 2 – 3 years work experience.
Proven experience as Digital Experience Executive or similar role
Excellent understanding of digital marketing concepts and best practices
Age bracket for this role is 20 – 27 years
The job is more of hybrid.
Application Closing Date
30th September, 2023.
How to Apply
Interested and qualified candidates should send their CV to: pixels.hr1@gmail.com using the Job Title as the subject of the mail.