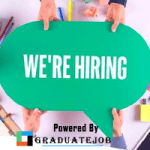 Website Sunhive Limited
Sunhive Limited is a solar energy development and engineering company that focuses on providing solar solutions for productive ends. Our main focus is on the development and engineering of commercial solar photovoltaic power generation solutions. We are an electrical engineering firm with a focus on solar energy and energy efficiency. Our Services: Energy audits and efficiency solutions, Solar PV project development, Solar PV system design, Energy Storage Solutions, Solar PV system engineering, procurement and construction (EPC) & Solar PV microgrid operation and maintenance.
Process Compliance Officer at Sunhive Limited, Qualified candidates should Apply. Click for more Jobs
We are recruiting to fill the position below:
Job Title: Process Compliance Officer
Location: Ikeja, Lagos
Employment Type: Full-time
Process Compliance Officer at Sunhive Limited
Job Description
We're seeking a Process Compliance Specialist to join our dynamic team. As the Process Compliance Specialist, you will play a crucial role in maintaining and improving our organizational processes and project timelines.
You'll be responsible for regularly checking in with colleagues to ensure adherence to established processes, as well as updating and refining these processes to keep them relevant and efficient.
Essential Job Functions
Conduct regular check-ins with team members to ensure compliance with processes.
Identify and address any deviations from standard procedures and collaborate with teams to implement corrective actions.
Work closely with department heads and team members to review and update existing processes for optimization.
Proactively seek feedback on processes and recommend improvements.
Maintain comprehensive documentation of all processes, ensuring that they are up-to-date and accessible to relevant stakeholders.
Develop training materials and conduct workshops to educate team members.
Create and manage effective action plans in response to audit discoveries and compliance violations.
Manages the quality management system of the company.
Ensure that projects are carried out and commissioned in accordance with the Company's processes.
Implements and supports Business process mapping and KPI tracking.
Engage in professional development activities to stay informed about industry best practices and emerging trends.
Requirements
Candidates should possess a Bachelor's Degree qualification with 3 – 5 years work experience.
Previous experience in process management, compliance, or a related field preferred.
Exceptional attention to detail and organizational skills.
Strong communication and interpersonal abilities.
Analytical mindset with the ability to identify areas for process improvement.
Willingness to embrace change and contribute positively to a culture of continuous improvement.
Good learning skills and a track record of self-development.
Ability to work without supervision.
Application Closing Date
31st December, 2023.
How to Apply
Interested and qualified candidates should:
Click here to complete the application test
And
Send their Applications to: hr@sunhive.com using the Job Title as the subject of the email.
Note
Kindly use the link above to take a 30-minute test to demonstrate the skills required for this role.
Only candidates who have taken the test will be considered, ensure you use the same email address in both steps.
Please submit only one application, multiple applications will not be considered.
Shortlisted candidates will be contacted.