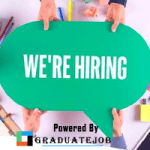 Website 4 Quarters Consultants Limited
Receptionist at 4 Quarters Consultants Limited, Qualified candidates should see the job details and Apply. Click for more Jobs
4 Quarters Consultants Limited – Our client, a leading health care provider based in Lagos, is recruiting to fill the position below:
Job Title: Receptionist
Location: Lagos
Receptionist at 4 Quarters Consultants Limited
Job Description
Our client is seeking a Receptionist for their billing department. The Receptionist will be responsible for managing the front desk on a daily basis and performing a variety of administrative and clerical tasks.
Responsibilities
Direct visitors to the appropriate person and office
Answer, screen and forward incoming phone calls
Ensure reception area is tidy and presentable, with all necessary stationery and material (e.g. pens, forms and brochures)
Provide basic and accurate information in-person and via phone/email
Receive, sort and distribute daily mail/deliveries
Maintain office security by following safety procedures and controlling access via the reception desk (monitor logbook, issue visitor badges)
Order front office supplies and keep inventory of stock
Update calendars and schedule meetings
Arrange travel and accommodations, and prepare vouchers
Keep updated records of office expenses and costs
Perform other clerical receptionist duties such as filing, photocopying, transcribing and faxing.
Requirement
Candidates should possess an HND qualification.
Application Closing Date
27th November, 2023.
How to Apply
Interested and qualified candidates should send their CV to: pa@4qconsultants.com using the Job Title as the subject of the mail.