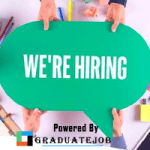 Website Accirro Limited
Accirro is more than just a recruitment agency. We are your strategic partner in growth, your bridge to global talent pools, and your guide through the ever evolving landscape of talent acquisition.
We are recruiting to fill the position below:
Job Title: Recruitment Specialist
Location: Lagos
Employment Type: Full-time
Job Category: Human Resources
Recruitment Specialist at Accirro Limited
Job Description
We are seeking a driven, dynamic Recruitment Specialist to join our team in Lagos, Nigeria. As a global recruitment firm focused on connecting top talents with leading companies worldwide, we need recruiting professionals who can source, attract and acquire quality talent.
As our Recruitment Specialist, you will be responsible for full life-cycle recruiting for clients across various functions and industries.
This includes talent sourcing, screening, interviewing, selection, salary negotiation, onboarding and more.
You will collaborate with our team of experts to build pipelines of qualified candidates using innovative techniques.
Responsibilities
Developing customized recruitment strategies based on client hiring needs
Sourcing active and passive candidates through online channels, events, referrals etc.
Performing initial screening of applicants' resumes and profiles
Conducting interviews to assess candidates' skills and fit
Managing and coordinating recruitment workflow using latest tools
Selecting qualified candidates to present to clients
Advising on salary negotiations and drafting job offers
Ensuring smooth onboarding and joining of new hires
Maintaining extensive talent network and pipeline
Staying up-to-date on recruiting best practices and compliance
Requirements
Bachelor's Degree in Human Resources or related field
2+ years of full-cycle recruitment experience
Expertise in sourcing candidates online and through professional networks
Strong interviewing and assessment skills
Excellent communication and stakeholder management
Passion for using technology to transform hiring
Recruitment certification is a plus.
Remuneration
N100,000 Monthly.
Application Closing Date
1st December, 2023.
Method of Application
Interested and qualified candidates should:
Click here to apply online
Note
Interested candidates are invited to send their Resume detailing their recruitment experience using the job application form attached to the link above.
Accirro is an equal opportunity employer. We celebrate diversity and are committed to creating an inclusive environment for all employees.