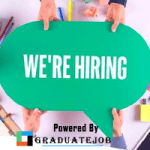 Website Brownson Investment Services Limited
Brownson Investment Services Limited is a sustainable and innovative Credits and Investment Company duly incorporated, licensed and managed by a team of highly experienced financial experts with many years of experience in sustainable finance & investment banking, asset management, credit management and analysis. Brownson Investment was founded and established in 2018, and is the fastest-growing sustainable financial service firm in Nigeria.As a sustainable financial services company based in Nigeria, We specialize in providing credits to individuals, SMEs, and Corporate organizations, as well as providing investment opportunities to individuals and businesses. Our business is at the core of Sustainable practice while following several ESG finance Metrics.It is a member of the Brownson Group Of Companies.
Relationship Sales Officer at Brownson Investment Services Limited, Qualified candidates should see the job details and apply. Click for more Jobs
We are recruiting to fill the position below:
Job Title: Relationship Sales Officer
Location: Abuja (FCT)
Employment Type: Full-time
Industry – Financial Service
Relationship Sales Officer at Brownson Investment Services Limited
Job Description
We are looking for a wealth manager to be responsible for acquiring and driving wealth procurement.
The Relationship Sales officer will be responsible for marketing the organization's Loans and Investment services to new and existing clients, building the portfolio of the organization, managing the organization's clientele, growing the organization's balance sheet, and delivering excellent service.
To be successful in this job role, the relationship sales officer must possess strong marketing, sales and negotiation skills, great customer relationship skills, and superior knowledge about the finance industry.
Responsibilities
Manage client's portfolios.
Liability generation or Fund mobilization
Cultivate customer relationships.
Bringing in loan transactions for the organization.
Cultivate customer relationships.
Develop wealth marketing and sales strategies.
Strong presentation skills, and a great understanding of customer relations tactics.
Business analyst mindset, and numbers-driven.
Hit and exceed expected targets.
Requirements
Degree in Finance, Economics, Management, or any related field.
Must possess excellent communication and writing skills.
Previous experience in marketing and customer relations in the financial services industry.
Must be dogged, dedicated and result oriented.
Must possess strong presentation skills and be detail-oriented.
Must be analytical and able to understand complex information.
Good appreciation of Microsoft office word, and Excel.
Other Benefits
Salary: N70,000 – N100,000 monthly.
Monthly or Quarterly performance bonus
Allowance
Promotion within the organization
Application Closing Date
1st December, 2023.
Method of Application
Interested and qualified candidates should send their CV and cover Letters to: brownconconsulting.hr@gmail.com using the job title as the subject of the mail.