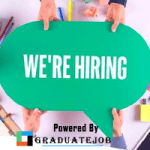 Website Asumoto Technologies Limited
Senior Sales Executive at Asumoto Technologies Limited, Qualified candidates should Apply. Click for more Jobs
Asumoto Technologies Limited is Nigeria's number 1 online car parts and accessories company, and we are the leading distributor and marketer of aftermarket automotive equipment and accessories in Nigeria. Asumoto Technologies Limited serves the diverse need of automotive owners and corporations with a fleet of cars nationwide, we offer the largest assortment of speciality products in the automotive aftermarket industry including over 5,000,000 SKUs (unique car parts) from over 800 suppliers, and you are guaranteed to have original OEM parts at a competitive price.
We are recruiting to fill the position below:
Job Title: Senior Sales Executive
Location: Abuja (FCT)
Employment Type: Full-time
Senior Sales Executive at Asumoto Technologies Limited
Responsibilities
This is what will be expected of you as a Senior Sales Executive:
Seek out new customers and partner with existing ones by offering a variety of solutions to improve their business; you will have to make it a priority to take exceptional care of your clients.
Be able to thrive in a fast-paced environment; you must be driven to succeed and willing to strive to be the best. You must bring a high level of energy and be committed to achieving your sales goals.
Be comfortable with cold calling and in-person prospecting for potential and established clients; you must be tenacious and have a desire to grow your knowledge as you build your career.
Preparing regular sales reports as well as sales territory plans.
Developing innovative sales strategies to achieve sales goals.
Outbound calling to potential and established clients on a daily basis to set face-to-face appointments, ensuring outstanding customer service through regular follow-ups; you'll be expected to report regularly to a branch office.
Establishing and strengthening relationships with decision-makers for current and potential clients.
Learning and demonstrating the benefits of all Asumoto products, services and solutions for clients.
Designing and presenting solutions that will help customers' businesses.
Consistently closing sales and achieving monthly activity and revenue goals.
Requirements
University / Polytechnic qualification preferred
Must have at least two (2) years of business-to-business outside sales experience, selling to clients in the corporate and government sector OR in auto parts sales or other technology industry
A valid driver's license (optional)
Proven sales experience.
Proven track record of achieving sales quotas.
Proficiency in all Microsoft Office applications.
Strong negotiation and consultative sales skills.
Excellent organizational and problem-solving skills.
Effective communication skills.
Exceptional customer service skills.
Asumoto Offers
Competitive salary (base salary + commissions). Strong results are well rewarded
Outstanding benefits package
Ongoing professional development training including access to online Harvard Manage / Mentor courses.
Application Closing Date
30th March, 2022.
How to Apply
Interested and qualified candidates should:
Click here to apply online
Note
Asumoto is an equal opportunity and affirmative action employer.
We consider all qualified applicants for employment without regard to race, color, religion, creed, national origin, sex, pregnancy, age, sexual orientation, transgender status, gender identity, disability, alienage or citizenship status, marital status or partnership status, genetic information, or any other characteristic protected under applicable law.