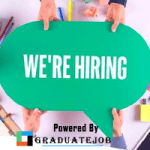 Website Emerson
Emerson is a global Technology and Engineering company providing innovative solutions for customers in industrial, commercial, and residential markets. Our Emerson Automation Solutions business helps process, hybrid, and discrete manufacturers maximize production, protect personnel and the environment while optimizing their energy and operating costs. Our Emerson Commercial and Residential Solutions business helps ensure human comfort and health, protect food quality and safety, advance energy efficiency, and create sustainable infrastructure.
Service Engineer at Emerson, qualified candidates should see the job detail and Apply. Click for more Jobs
We are recruiting to fill the position below:
Job Title: Service Engineer
Location: Lagos
Service Engineer at Emerson
Job Description
This role will oversee the Service function for the MEA and will be responsible for providing aftermarket services such as the start-up, commissioning and maintenance of gas conditioning skids/systems such as microprocessors/thyristor-controlled heaters, turbine/Coriolis/ultrasonic meters, analyzers, chromatograph, instruments, actuated valves, flow computers/PLC/RTU/SCADA.
Provide exceptional services to Customers that enhance Customer loyalty and Customer satisfaction with Emerson.
Job Responsibilities
Lead the Start-up & Commissioning activities of the Gas conditioning skids/systems and Products including planning, execution and reporting to Customer.
Provide advanced technical support to Customer for the maintenance of gas conditioning skids/ systems and associated products such as HMI, Flow computers/SCADA/RTU/PLC, GC, Orifice meters, Gas USMs, Coriolis meters, analyzers, chromatograph, instruments, actuated valves, and heating systems.
Carry out site surveys, simple flow audits and assessment of installed base for upgrades and Consulting opportunities.
Carry out field modifications, upgrades independently or under supervision of a Project Manager as applicable.
Guidance/train customers in troubleshooting issues and provide support in escalated service matters.
Develop Customer relationship to ensure long term Customer loyalty and growth of service business.
Support PMO objectives, polices and goals.
Comply to the business unit Quality Management System processes and accountable for continuous improvement.
Ensure safety all the time.
Any other duties as deemed appropriate by your line manager.
Lateral relationships
Project Managers, Applications Engineers, Design & Engineering team, Line Manager, Order Entry Team, Buying & Expedition Team, Logistic team, Finance team and sales team.
Basic Qualifications
Qualified in an Engineering discipline (Instrumentation/Electronics/Electrical)
7-10 years hands-on experience in the start-up, commissioning and maintenance of gas conditioning systems which includes Pressure Reduction, gas metering, flow Control, analyzers, chromatograph, gas heating, valve actuation etc, Flow Metering Systems and Flow Meters in the Oil & Gas sector.
Ability to remain calm under pressure, acknowledge mistakes, and possess emotional intelligence/diplomacy
Strong organization and planning skills.
Results oriented and able to work independently.
Good decision making and problem-solving skills.
Preferred Qualifications:
Strong computer skills (MS Office and other engineering software)
Demonstrated knowledge of Custody metering applications, codes, standards and practice (eg: API, ISA, ANSI, AGA, ISO and IEC codes etc.)
Previous experience working in Emerson software/products would be an added advantage.
Application knowledge and exposure to Daniel / Micro Motion/Rosemount/RAS measurement and Flow Computer products.
Travel:
Travel to customer sites within Middle East and Africa for pre-commissioning, commissioning/start-up, maintenance & training activities
Travel to factories around the globe to attend FAT/Trainings.
Travel to supplier locations around the globe to attend FAT/Trainings.
KFLA Competencies:
Ensures Accountability
Action Oriented
Collaborates
Communicates Effectively
Customer Focus
Plans and Aligns
Drives Results
Health & Safety:
Recognize and accept HSE Roles and responsibilities as defined in Emerson's Company Procedures.
Ensure effective leadership in HSE, leading by example and setting the direction for a successful health and safety program and creating a foundation for a positive safety culture.
Discuss Health and Safety first or at least early on the agenda of every meeting.
Ensure effective management of HSSE risks and impacts. Report all hazards, incidents and Near Misses in line with the MEA Emerson HSE incident policy. Active involvement in the investigation of accidents, near misses, incidents and ill health where required.
Conduct all HSE training assigned to you as an employee.
100% utilization of the Emerson Safety App.
Application Closing Date
11th October, 2023 by 09:46