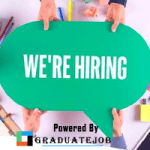 Website Sidewalk 9ja
Sidewalk9ja is a vibrant and rapidly growing social media platform dedicated to capturing authentic reactions and diverse viewpoints from people on the street. We're committed to showcasing the tapestry of thoughts, opinions, and emotions that define our community.
Smartphone Camera Operator (Remote) at Sidewalk 9ja, Qualified candidates should Apply. Click for more Jobs.
We are recruiting to fill the position below:
Job Title: Smartphone Camera Operator
Location: Lagos (Fully Remote)
Employment Type: Contract
Smartphone Camera Operator (Remote) at Sidewalk 9ja
Role Summary
As a Smartphone Camera Operator for Sidewalk9ja, you play a pivotal role in capturing visually compelling content that breathes life into our interviews and interactions.
Your adeptness at utilizing smartphone cameras to craft captivating videos is instrumental in delivering captivating and relatable content to our thriving social media audience.
Responsibilities
Utilize your smartphone camera to record high-quality video footage during on-the-street interviews and interactions.
Collaborate closely with our Presenter/Interviewer to capture alluring visuals that elevate the overall viewer experience.
Ensure meticulous framing, impeccable lighting, and precise focus to craft visually appealing videos.
Collaborate with our content team to grasp the intended style and aesthetic for each video.
Promptly transfer video files to our editing team for seamless post-production processes.
Assist in the setup of fundamental equipment such as microphones and tripods as required.
Maintain a vigilant focus on technical intricacies and adeptly troubleshoot any camera-related challenges that may arise.
Qualifications
To excel in this role, you should possess:
Proficiency in operating smartphone cameras to expertly capture high-quality amateur-style interviews.
Proficiency in creating content for short-form videos like reels, TikTok, and other similar formats.
A grasp of basic filming techniques encompassing framing, lighting, and composition.
An unwavering attention to detail with a commitment to ensuring consistent video quality.
The ability to thrive within a dynamic and fast-paced collaborative environment.
A bonus: Familiarity with using microphones and tripods (equipment will be provided).
A genuine passion for storytelling and contributing to the development of engaging content.
Requirements:
Ownership of a smartphone equipped with a high-quality video camera (Preference for iPhone 11 or Samsung S9 and above).
Age within the range of 21 to 35.
Residency in Lagos.
Remuneration
N40,000 – N60,000 Monthly.
Application Closing Date
18th September, 2023.
How to Apply
Interested and qualified candidates should send their Resume and a portfolio of their previous work showcasing their expertise in creating engaging short videos to: sidewalk9ja@gmail.com using "Smartphone Camera Operator Application" as the subject of the email.
Note: If you are enthusiastic about crafting compelling narratives and visual experiences, and you possess the technical finesse to translate them through smartphone videography, we invite you to join our team at Sidewalk9ja. Be a driving force in capturing the vibrant essence of our community through your lens.