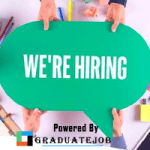 Social Media Manager at Nobles World, Qualified candidates should Apply. Click for more Jobs.
Nobles World – We are Digital Marketing Agency in Lagos Nigeria. We assist entrepreneurs to amplify their returns by leveraging the internet.
We are recruiting to fill the position below:
Job Title: Social Media Manager
Location: Surulere, Lagos
Employment Type: Freelancer / Remote
Social Media Manager at Nobles World
Description
The general responsibility of the Social Media Manager is to provide support, manage the social media platform, project management, and content creation for the Organization wherein you are employed.
The Social Media Manager will be responsible for bringing social media initiatives to life through project management, content creation, excellent copywriting, social monitoring and reporting on the effectiveness of the strategy.
Responsibilities
Creates contents and content curations including designing graphics such as infographics, short advert videos for social media marketing.
Project management includes the prioritization and management of social media channels, brand campaigns and development of cross-platform applications
Strategic insight and planning including ideating on social media marketing strategy and assisting in devising campaign tactics
Manage/monitor overall analytics for social media including daily, weekly, monthly and ad-hoc reporting on campaign performance, social interaction and digital communications
Mine analytics data and develop strategies for content creation, optimizing social channels and initiatives, increase engagement and ROI, and building brand awareness
Implement, optimize, and build social advertising plan on social media networks such as Creating campaigns, managing, and growing the organization's presence across social media platforms
Innovate new and creative ways to use social platforms and digital content to tell stories, empower our brands and clients' brands for perfect awareness
Collaborate on messaging for announcements, statements, PR, and other digital communications
Manage internal and external relationships including business partners and social influencers
Requirements
Must have a strong and intimate knowledge of the social media landscape, strategic initiatives, project management, content development and writing creative copy.
The Social Media Manager must have the ability to thrive in a fast-paced environment.
Be a self-starter, and be team-oriented.
Candidates for this position must possess a minimum of 1-2 years of experience working in social media or content creation for brands or agencies.
Minimum- OND but qualification is not too much of importance as we seek for candidates who know his onions
Salary
N45,000 – N50,000 monthly.
Application Closing Date
31st March, 2022.
Method of Application
Interested and qualified candidates should send their CV to: hr@noblesworld.com.ng using the Job Title as subject of the email.