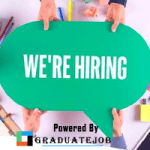 Client Relations Executive at a Reputable Company, Qualified candidates should see the job details. Click for more Jobs at Padoserve
A reputable company is recruiting suitably qualified candidates to fill the position below:
Job Title: Client Relations Executive
Location: Lagos (Hybrid)
Employment Type: Full-time
Client Relations Executive at a Reputable Company
Key Responsibilities
Act as the point of contact between clients and our team.
Understand and anticipate client needs, preferences, and potential issues.
Coordinate with other team members to ensure timely and successful delivery of our solutions according to client needs.
Provide regular feedback from clients to the team to facilitate continuous improvement.
Conduct client meetings to review campaign results and discuss future strategies.
Attend training sessions and seminars to stay updated with the latest Sales /marketing trends and tools.
Participate in team meetings and brainstorming sessions.
Requirements
Bachelor's Degree in Management, Marketing, Business, or a related field.
A passion for digital marketing.
Excellent communication skills, both verbal and written.
Strong organizational skills and attention to detail.
Ability to work in a fast-paced environment.
Willingness to learn and adapt.
Previous experience or education in marketing or related fields is a plus.
Application Closing Date
17th October, 2023.
How to Apply
Interested and qualified candidates should send their CV and Cover Letters to: bethseyo@gmail.com using the Job Title as the subject of the mail.