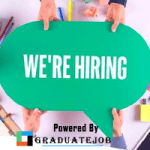 Website Home Affairs Supermarket
Home Affairs Supermarket is a wholly owned Nigerian Retail Distribution and Merchandizing company registered in Nigeria by the Corporate Affairs Commission with Business Registration Number BN 2041468. We are an all-round store with competitively low prices for great quality. Our stores are set up to give you a pleasant and relaxed shopping experience, with well-organized shelves, a relaxing ambiance and staff always at hand to help you. The customer is our top priority and we always strive to serve you even better.
Supermarket Supervisor at Home Affairs Supermarket, Qualified candidates should Apply. Click for more Jobs
We are recruiting to fill the position below:
Job Title: Supermarket Supervisor
Location: Lagos
Supermarket Supervisor at Home Affairs Supermarket
Responsibilities
Manage all cashiers to ensure adherence to standard of operating procedure (SOP).
Ensure all e-sales (Jumia) accounts are well managed and accounted for daily.
Communicate clearly and openly with all customers and team members.
Resolve customer related issues at the cash point.
Coordinate and oversee all cash point activities daily.
Proactively engage customers to address all customer complaints & answer their questions.
Ensure customer transactions are processed promptly and accurately by the cashiers.
Manage customer transactions both cash and card payments appropriately.
Ensure appropriate and timely work schedule (roaster) preparation for all cashiers.
Ensure all scheduled & unscheduled shifts and time-offs are covered appropriately.
Promptly resolve pricing and price check issues for cashiers and customers.
Provide excellent customer service at all times.
Create and maintain a positive work environment for all cashiers.
Ensure discipline and team spirit amongst team.
Resolve all customer issues and do refunds when necessary/appropriate in agreement with Sales Manager.
Qualifications
ND / B.Sc in Business Related courses
2-3 years experience as a floor supervisor in a supermarket
Candidates should be residing around Ikeja, Omole, Ogba, Beger.
Application Closing Date
Not Specified.
How to Apply
Interested and qualified candidates should send their CV to: hrad.homeaffairs1@gmail.com using the Job Title as the subject of the mail.