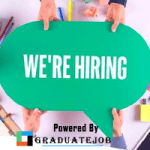 Supply Chain Analyst at a Financial Advisory Company – The People Practice, Qualified candidates should Apply. Click for more Jobs.
The People Practice – Our client, a Financial Advisory firm with a focus on managing start-ups and medium scale enterprises, is recruiting to fill the position below:
Job Title: Supply Chain Analyst
Location: Lagos
Employment Type: Full-time
Supply Chain Analyst at a Financial Advisory Company – The People Practice
Job Description
Our client is looking to hire a Supply Chain Analyst who will be responsible for optimizing and managing the company's supply chain processes, ensuring efficient and cost-effective operations while maintaining high product quality and customer satisfaction.
The Supply Chain Analyst will manage data analysis, demand forecasting, inventory management, supplier relations, and process improvement among others thus ensuring meeting the company'sbusiness objectives.
Responsibilities
Data Analysis: Analyzing supply chain data to identify trends, inefficiencies, and opportunities for improvement.
Forecasting: Predicting demand, inventory needs, and supply chain performance to ensure efficient operations.
Inventory Management: Maintaining optimal inventory levels to prevent overstock or stockouts while minimizing carrying costs.
Supplier Relationship Management: Developing and managing relationships with suppliers to ensure on-time deliveries and quality products.
Logistics Coordination: Coordinating the transportation and distribution of goods, including selecting carriers and optimizing routes.
Cost Optimization: Identifying cost-saving opportunities within the supply chain, such as reducing transportation costs or improving sourcing strategies.
Process Improvement: Continuously improving supply chain processes to enhance efficiency and reduce waste.
Risk Management: Identifying and mitigating supply chain risks, such as disruptions due to natural disasters or geopolitical events.
Reporting and Documentation: Generating reports and maintaining records to track supply chain performance and compliance with regulations.
Software Utilization: Utilizing supply chain management software and tools for data analysis, planning, and execution.
Cross-functional Collaboration: Collaborating with various departments, including procurement, production, and sales, to ensure a seamless supply chain.
Sustainability Initiatives: Promoting environmentally sustainable practices within the supply chain.
Qualifications
Degree in Supply Chain Management, Logistics, or a related field.
4 – 7 years of proven experience in supply chain analysis or a related role.
High-level understanding of all aspects of supply chain processes(e.g. inventory planning, warehouse management)
Proficiency in data mining, reporting and analysis tools and supply chain software.
Knowledge of supply chain best practices and industry trends.
Must have skills:
Excellent communication and interpersonal skills
Strong negotiation and vendor management skills
Attention to detail and the ability to work in a fast-paced environment
Strong analytical and problem-solving skills.
Application Closing Date
12th December, 2023.
To apply for this job please visit bit.ly.