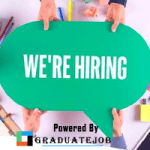 Website ApplyBoard
ApplyBoard simplifies the study abroad search, application, and acceptance process by connecting international students, recruitment partners, and academic institutions on one platform. With an exceptional team from around the world and speaking more than 75 languages, our diversity is one of our greatest strengths. Our core values, such as Caring About Each Other, Innovating and Improving, and Making Work Fun, propel us forward together and continuously strengthen our engaging culture. We are in growth mode and are looking to empower passionate and exceptionally talented team members. 
We are recruiting to fill the position below:
Job Title: Account Support Officer
Ref No: JR101933
Location: Abuja
Account Support Officer at ApplyBoard
The Role
We are looking for an experienced, well-connected, organized Support Professional to join our growing Account Support team and take our company and platform to the next level!
What you'll be Doing every Day
On a daily basis, represent the ApplyBoard brand to promote our platform and services to Recruitment Partners onsite
This is a high performance, individual contributor role with the primary task of serving the Enterprise Recruitment Partners, helping them with student application tasks, which will drive the sales conversion and provide an A+ experience
Be a single point of contact with the assigned Recruitment Partners providing top-notch dedicated support
Proactively work with internal and external stakeholders to ensure student success
Train and guide agents to improve the quality and volume of international applicants, ensuring top quality
The role will require local travel
The role will include Inbound/Outbound calling; Recruitment Partner visits to ensure an end to end hassle-free experience
Communicate with our partner school to cultivate positive relationships and clarify application processing ambiguities.
What you Bring to the Table
The candidate should ideally have at least 3+ years of experience in sales/ customer support
Experience working with educational consultants and or postsecondary institutions directly; considered a bonus
Possess efficient document processing and office productivity skills
The candidate should have strong verbal and written communication skills.
A self-starter with an aptitude for managing and prioritizing multiple tasks with attention to detail to ensure information accuracy
Exceptional problem-solving skills under ambiguous circumstances to ensure you provide the best outcome for our students while maintaining integrity with our partner relationships
Experience working with a CRM; considered an asset
Application Closing Date
Not Specified.